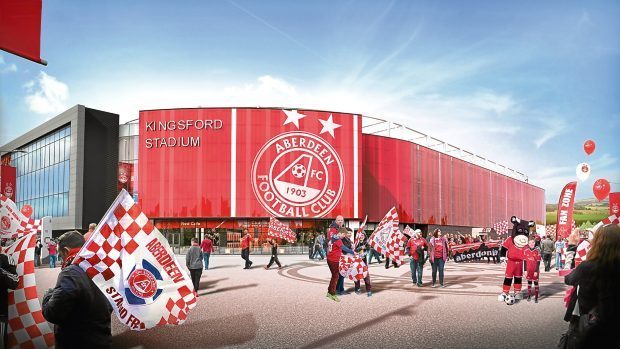 Ten years in the making – yesterday Kingsford Stadium took a step forward after Aberdeen Council voted in favour of the new sports complex.
Look at how the timeline progressed below.
July 2008: Aberdeen FC announces plans for a feasibility study for a 22,000-seat stadium at either Kings' Links or Loirston Loch.
April 2009: Loirston is named the preferred site.
May 2016: The plans are dropped in favour of a new site at Kingsford.
July 2016: No Kingsford Stadium campaign group launches, claiming 70% of nearby residents oppose the plans.
July 2016: The first public exhibition on the £50million proposals opens.
September 2016: Dons Supporters Together claims 75% of the club's fans are in favour of the move to Kingsford.
January 2017: Aberdeen FC submits its Kingsford planning application to the city council.
February 2017: Aberdeenshire councillors tell their city colleagues that the application should not be approved, while Opportunity North East (ONE) comes out in favour.
March 2017: The Dons vow to press ahead with the plans, despite Aberdeenshire Council's objections.
May 2017: Council chiefs ask Aberdeen FC for more information on their proposals, pushing the hearing date back from June to October.
August 2017: Club chairman Stewart Milne warns "there is no plan B" as he launches the All for Aurora campaign with manager Derek McInnes.
September 2017: A council report shows 53% of respondents were for the development, with 47% against. Several days later Aberdeen and Grampian Chamber of Commerce publicly backs the stadium.
October 2017: The council planners' report, containing its recommendation on whether members should approve or reject the project, is delayed to allow for "further discussions with the planning service."
November 2017: Aberdeen FC chiefs reveal their hope of having the application granted by Christmas.
December 2017: A special meeting to make the final decision on the Kingsford plans is set for Januar 29, 2018.
January 2017: The council planners' report is released, recommending that members approve the plans. One week later, at a special meeting, they vote in favour of the Kingsford proposal 32 votes to nine.