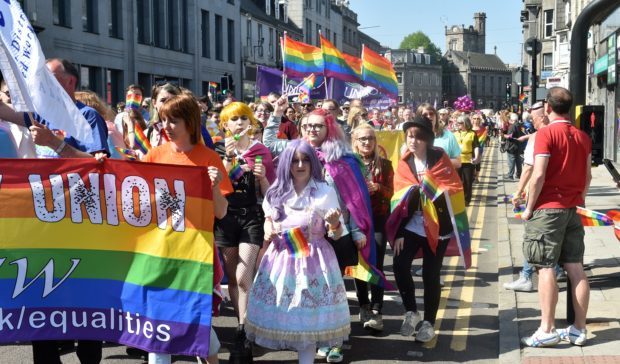 Shock new figures show that hate crimes against lesbian, gay and bisexual people in the north-east almost doubled in the last year.
Just weeks after the region celebrated the success of the first ever Grampian Pride event, official data showed yesterday that crime aggravated by sexual orientation jumped from 35 in 2016/17 to 69 offences last year.
The sharp rise was branded a "real concern" last night and means that the Aberdeen procurator fiscal's office dealt with the third highest number of offences of that kind in Scotland last year, up from the seventh highest in the year before.
However, the figures are also being viewed as evidence that more people have the confidence to report such offences to the police.
The Granite City office also recorded its first two offences aggravated by transgender identity last year.
Inverness witnessed a rise in crimes aggravated by sexuality, more than trebling from five to 16, while the number in the Wick fiscal office doubled from four to eight, but most other areas of the north and north-east remained at similarly low rates to previous years.
The figures for Aberdeen follow a "hugely important milestone" being marked last month as 5,000 people attended the first ever Grampian Pride in Aberdeen.
Aberdeenshire East MSP Gillian Martin said: "A rise in sexual orientation related crime, to almost double the numbers within a year, is a real concern, but I am hopeful that the increase has been caused by the number of people experiencing it having the courage to come forward and report it.
"No one should be subject to any crime or targeted because of their sexual orientation, gender, race or disability.
"I hope more people feel comfortable to come forward to report these types of crimes and I commend those who have already done so.
"Aberdeen city only recently held its first Pride and we want to show that the north-east is a place where everyone is welcome."
In contrast to the sexual orientation figures, the Aberdeen fiscal's office witnessed its lowest number of racially aggravated hate crimes in recent years, with the 154 last year comparing to 358 in 2010/11.
Community Safety Minister Annabelle Ewing said: "It's reassuring to see more people are coming forward to report hate crime. A significant amount of work has been done by Police Scotland, the Crown Office and community organisations over the past year to ensure this is happening."
Chief Superintendent John McKenzie said: "Hate crime is a key priority for Police Scotland. We recognise the deep personal impact it has on individuals, their families and wider communities."