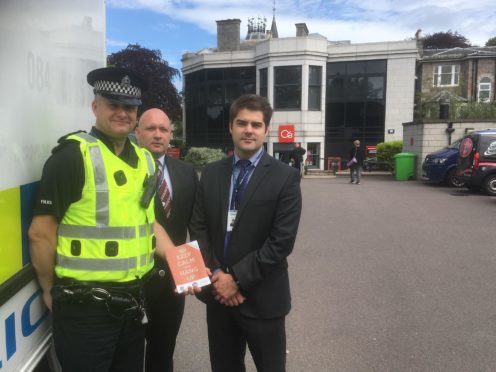 Police have ramped up efforts to tackle fraudsters preying on vulnerable north-east pensioners with sophisticated telephone scams.
Officers plan to tour the Grampian region to teach older people how to avoid falling victim to elaborate phone scams known as vishing.
It is the first time police will have visited clubs and charities in the area to give advice to pensioners.
The move follows several cases involving elderly and vunerable residents being targeted for their cash.
It recently emerged that a small group of local victims had £1.2 million of savings stolen after being tricked into transferring money to foreign bank accounts.
Officers are appealing for different groups and charities to get in touch and arrange talks where pensioners can receive some expert guidance.
And Detective Constable Mark Eddie, Sergeant Simon Lewis-Dalby and Grant Pinnell, from Aberdeen's fraud unit, set up an information point beside the Clydesdale Bank at Queen's Cross yesterday.
Police gave advice to more than 100 people and also distributed leaflets.
Mr Pinnell explained the devious tactics which scammers employ to convince trusting individuals to part with their cash.
He said: "These are highly intelligent people who may come from a legal or professional background who are calling claiming to be from their bank, Royal Mail or HMRC.
"They are educated and articulate, with English as their first language, and have extremely plausible scripts prepared.
"People can be pulled in fairly easily, as scammers will look at maps and mention local street names and schools to convince victims that they are from the same area.
"They chip and chip away to build a rapport."
Mr Pinnell added that "older, vulnerable" people tend to be most commonly swindled and explained police plans to ensure they are on their guard.
He said: "That demographic is generally less tech-savvy, and can be more trusting.
"The north-east has been targeted a few times so we are now planning more talks to rotary clubs and pensioner groups.
"We are always trying to be proactive, and this is a bigger push."
Detective Constable Eddie said that one woman who had been targeted by scammers was among those who visited officers for advice yesterday morning.
Organiser for the Aberdeen branch of the Contact the Elderly charity, John Gall, welcomed the drive last night.
He said: "Only recently we have learned about a woman being conned out of £16,000 of her life savings at Bridge of Don, and educating people is the best way of preventing that from happening."
Groups who would like to organise a talk from officers should contact the police on 101.