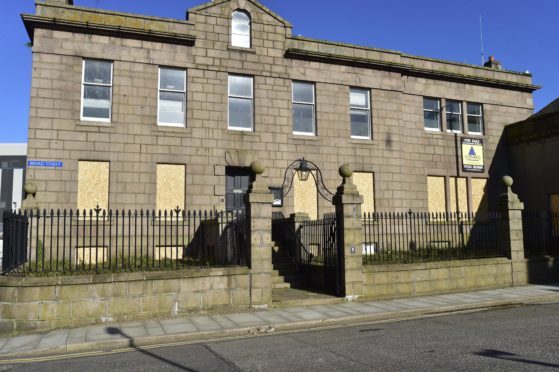 A mothballed council building could be turned into a restaurant after years of lying empty.
Arbuthnot House in Peterhead was abandoned by Aberdeenshire Council in 2014 in favour of the new purpose-built Buchan House, just a few streets over.
The council has been trying to sell the B-listed building ever since, with officials inviting offers over £450,000.
Now the authority has said it is at an "advanced stage" of selling the site to Covenant Properties International, which lists fish merchant George Forman as a director, which hopes to convert the property into a restaurant and tea room.
The firm wants to retain offices on two of the floors but have an eatery on the ground floor, with space for about 100 diners as well as a kitchen, two tea rooms and a private dining room.
A planning application has now been submitted by Kevin O'Brien Architects on behalf of the developer.
A statement in support of the application said the restaurant would bring the "wow factor" to Broad Street.
It read: "We anticipate this is a sensitive development which will be hugely supported by the local population and the inward investment into the project must be seen as an incredibly positive move at a time where the town centre is attempting to regenerate.
"We will be happy to work with the planning office to attempt to ensure an approval on this application which will be of enormous benefit to the town as a whole."
The main restaurant will be built in what was the council chamber, where the Buchan area committee met.
This room will be redecorated along with the reception area and office space, the dining room which the report describes as having "abundant character" will be retained.
The building, which currently lies boarded up, has been the target of vandals and break-ins since it was closed.
In May police were forced to attend after three teenagers broke in and caused extensive damage to the property.
The developer declined to comment at this stage.