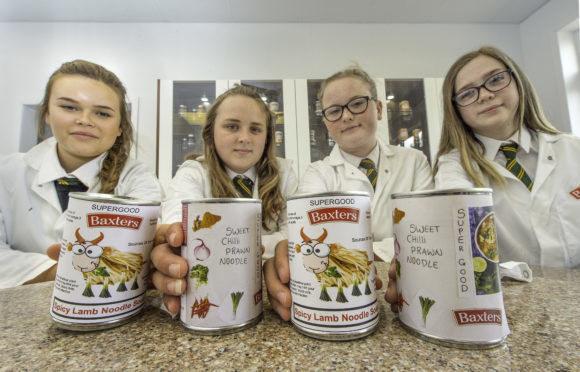 Pupils from a Moray high school saw their souped-up recipes become a reality when they visited one of the region's most well-known factories.
Four second-year students from Milne's High School went on a tour of Baxters as a result of winning a school-wide competition to design a brand new soup.
Out of 19 entries, two soups were chosen as the best and were brought to life by the Fochabers manufacturing plant, with the pupils given the product to try and then take home as a souvenir.
The winning teams were the Souper Noodles (Freya Hughson and Emma Jane Morrison) with their sweet chilli prawn noodle soup and the Soup Queens (Megan Keddie and Dionne Campbell) who created a spicy lamb noodle concoction.
Deborah Gordon, principal teacher of Home Economics at Milne's High, was in charge of the school side of the annual competition and described it as a tough challenge.
She said: "The pupils were asked to design a soup for the healthy market, the supergood range. It had to have some health benefits and also be designed to a certain budget (£1.50).
"All of the school departments took part in the competition, as the pupils designed their cans in art, researched the ingredients in science, made up a jingle in music and, of course, created the soup in home economics."
Warren Lawson, Baxters Development Chef, said that the quality this year was impressive.
He added: "Given the tighter restrictions, it seems to have brought out their creative side because there were a lot of really good ideas.
"I didn't have to make a lot of amendments to the soup to make them actually work."