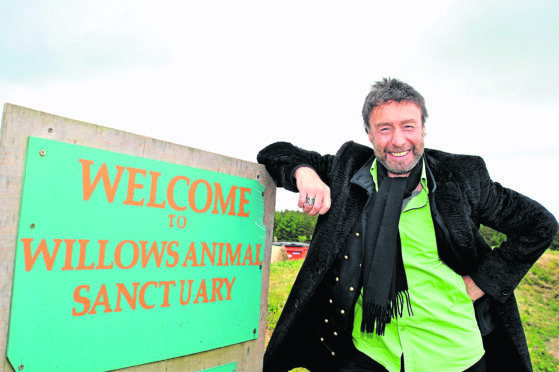 Some of the biggest names in rock music, including Sting, Robert Plant and Roger Taylor, have pledged support to a new venture to support a north-east animal refuge.
Paul Rodgers, patron of Willows Animal Sanctuary and former vocalist with Free, Bad Company and Queen, has talked to the Press and Journal about his support for the facility, which is based outside Fraserburgh and is celebrating its 20th anniversary.
Mr Rodgers has already arranged a number of charity initiatives to help the organisation, which he said does "wonderful, life-affirming work" with abandoned, old and neglected creatures.
But he and his wife, Cynthia, have now organised an ambitious book project, which has attracted the support of some of the most high-profile figures in the music industry.
He said: "We felt that we could get creative and help and Cynthia is designing a pet table top book to celebrate Willows 20th anniversary this year with all proceeds being given to them.
"She has asked 20 of our musician friends to photograph themselves with their pets and write a handwritten, autographed note about their pet and every note will be auctioned for Willows.
"Not to give too much away at this stage, but Robert Plant, Sting, Brian Johnson of AC/DC and Roger Taylor of Queen are among those who are participating."
Mr Rodgers spoke movingly about the efforts of the staff and volunteers at the north-east centre to work with hundreds of different animals and spread the message about their work with children in the region.
He added: "Given the geographical location and the population base required to support such a large charity as Willows, it was clear they needed a larger population to draw from.
"After getting involved with the organisation and having visited Willows several times, it is unimaginable what some of these animals have endured at the hands of man.
"The saving grace is watching them return from near death and go on to thrive.
"In the past 21 years, our home in Canada has been a safe haven for almost 90 animals, predominantly cats and dogs. There is a common quote that I find to be so true, and that is: "Your heart and soul never fully awaken until you have loved an animal".
Mr Rodgers' vocals appear on some of the most famous songs in rock history, including Free's 'All Right Now' and 'Wishin' Well' and Bad Company's 'Feel Like Makin' Love'.
He has encouraged as many people as possible to attend this weekend's anniversary events at the Willows centre on July 7 and 8.