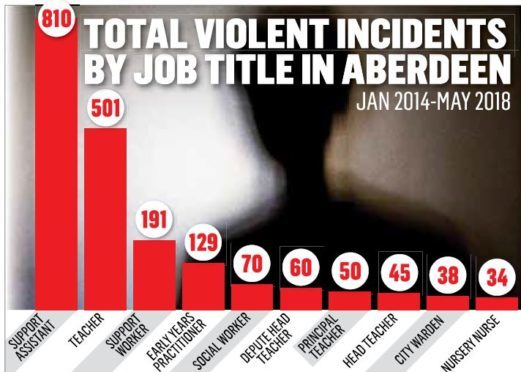 Pupil support assistants feel undervalued and are being "abused at work on a regular basis" in the city, it has been claimed.
A new GMB survey, which received 423 written responses from PSAs employed in positions at primary and secondary education facilities, showed more than 90% have suffered verbal or physical abuse at work.
Last week the Press and Journal revealed PSAs were the most likely city council employees to be targeted while carrying out their roles.
The figures emerged in a council report which showed individuals had reported 810 violent attacks and had been shouted at in the workplace on 12 occasions.
North-east council staff subject to more than 5,000 physical attacks at work over the past four years
However, Melanie Greenhalgh, area organiser for the GMB, said the numbers could be higher due to the survey showing that nearly a quarter of the PSAs surveyed did not know how to report abuse and more than 70% noted that they had not received the appropriate training.
In testimonies to the trade union, some support assistants said they were also made to feel they were "like second class citizens" and not respected by teachers or parents.
Others have reported chairs frequently being thrown around classrooms, "disgusting" language screamed at staff, hair being pulled out by unruly pupils, physical abuse "at least once a week" and even worse.
Many said they had filed reports but did not receive any feedback and some had lost so much confidence in the system they said they have stopped filing complaints entirely.
Mrs Greenhalgh said: "PSAs across Aberdeen are being abused at work on a regular basis. There is a process there to be maintained regarding reporting all incidents and injuries. However through apathy, or a belief that it's now just part of a job, so many of these incidents are just not being reported.
"I don't think there is an understanding of the importance of these forms being filled in and incidents reported.
"As a result, if these incidents are not reported then there is no feedback and no learning. It's left so many PSAs feeling completely undervalued."
The union official said that the number of responses and the strength of feeling the GMB received to the survey was almost unprecedented.
She added: "It was shocking and very upsetting. You have to wonder if the public really know what's going on at schools once they drop their kids off and the school bell goes.
"This is the ugly truth of what is happening in our schools and the worst thing is, because so many people have been put off reporting these incidents, what we're seeing is really only the tip of the iceberg.
"PSAs provide an absolutely invaluable service in our children's education and they deserve to be treated with the utmost respect."
The city council's education convener John Wheeler said a plan was now in motion to address the issue.
He said: "The council is committed to working with staff to ensure all incidents are reported and acted upon appropriately. The wellbeing of pupils and staff is a priority for the council and we welcome the constructive feedback from trade unions and staff.
"Our pupil support assistants do a fantastic job in Aberdeen schools and their contribution to education in the city is valued.
"It is a vital role, often dealing with challenging behaviour and as a council we will do all that we can to support PSAs.
"We have a plan in place to address concerns, which has been negotiated and agreed with the GMB.
"The plan includes provision of additional training on how best to support vulnerable learners as well as a commitment to ensure that best health and safety practice is followed."
Over 90 per cent of PSAs have suffered verbal or physical abuse at work. 

Nearly a quarter of PSAs do not know how to report this abuse.

Over 70% of PSAs have not been trained on how to report abuse.

Nearly three quarters of PSAs who have reported abuse received no feedback