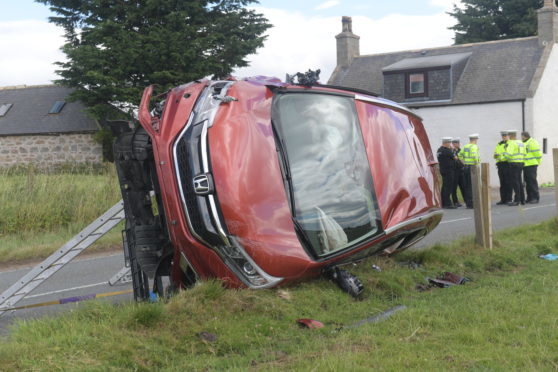 A north-east road was closed for several hours yesterday while investigators probed a serious crash which left two women in need of hospital treatment.
The emergency services were called to the A948 New Deer to Ellon road at about 11.20am following the collision between a black Vauxhall Astra and a burgundy Honda CRV.
The road remained closed until 4.10pm as an investigation into the circumstances of the collision was carried out.
Police hunting for suspects after cars seen ramming each other before a 20-man brawl broke out
It is understood that an older woman was one of the two rushed to Aberdeen Royal Infirmary by paramedics, after having to be cut from the Honda.
The car she was travelling in was forced through a wire fence by the impact and landed on a grass verge on its passenger side.
It had a dent in its roof as well as significant damage to the driver's side and its front.
The Astra suffered a cracked windscreen in the crash and is understood to have skidded along the road for about 300ft before coming to a halt.
The front driver's side of the car was badly smashed and both airbags had deployed.
There was a trail of debris between the two stricken vehicles, including a tyre which had been dislodged in the crash.
A spokesman for the fire service confirmed that a crew from Peterhead was called to the scene to slice apart the Honda CRV in order to safely remove the injured woman.
The accident took place on a downhill stretch of road about half a mile south of New Deer and it is understood that both cars were travelling in the same direction at the time.
A police spokeswoman said: "We were called to the scene at 11.20am and a full investigation was launched as we were concerned that it was a serious collision.
"However, we were able to open the road at 4.10pm and thankfully nobody suffered any serious injuries."
Central Buchan councillor, Jim Ingram, has spent years campaigning for investment to make the area's roads safer.
Last night, he said: "This crash is obviously bad news for the people involved and their families, but the good news is that the injuries don't seem to have been too serious.
"I know the stretch in question, and it's not too bad, but there have been collisions there in the past."