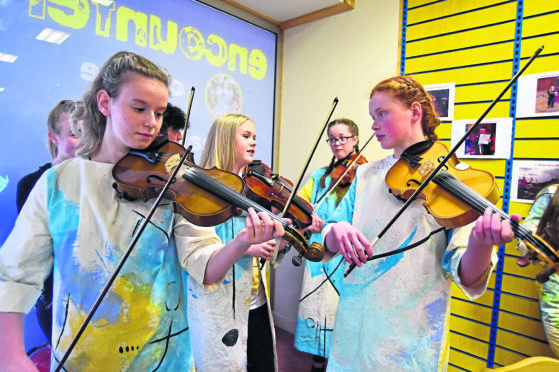 A national creative arts organisation officially launched a "ground-breaking" north-east project yesterday.
The Royal Conservatoire of Scotland's (RCS) North East Arts Hub aims to inspire people across the region and it has opened with its first ever show.
Rovin' Tales was performed by people of all ages who have been involved in workshops at Fraserburgh Academy this week and they showcased their work in four venues.
This involved traditional Scottish music played on fiddles and accordions, dancing and performance art.
It was created by the people who starred in it and was showcased in Banff, Macduff, Peterhead and Fraserburgh yesterday.
The North East Arts Hub does not have a specific venue but will work across north Aberdeenshire to boost the creative industries.
Jesse Paul, fair access manager at the Royal Conservatoire of Scotland, said it has been a "wonderful" experience for the musicians and actors taking part.
She said: "It has been wonderful to witness the creative journeys of the participants involved in the Rovin' Tales event.
"Everyone has worked incredibly hard and with such enthusiasm and commitment. Participants aged 10 to 71 have been immersed in everything from drama and film to sound production, composition, choir and traditional music where they've developed their skills and confidence.
"They've worked collaboratively and have taken ownership of traditional material that they've moved forward in a modern way that feels authentic to them. We are all very proud of what they have accomplished in our workshops and their performances at Rovin' Tales."
Professor Jeffrey Sharkey, principal of the Royal Conservatoire of Scotland, said: "We are thrilled to launch the ground-breaking RCS North East Arts Hub in partnership with Aberdeenshire Council with a special day of performance across the north-east coast. This new initiative enables us to work collaboratively to put creativity and arts education at the centre of local communities.
"We look forward to seeing more performing arts – and young people – flourish across the north-east and the hub, which is supported by Creative Scotland, will play an important part in identifying and developing a new generation of performing artists, helping them to fulfil their potential, develop essential life skills and explore a world of possibilities within the arts and beyond."