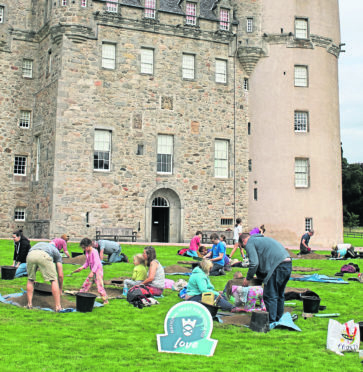 It was the middle of the 17th century and the sounds of war thundered through the halls of one of Aberdeenshire's strongholds.
General Monck, on behalf of Oliver Cromwell, laid siege to Castle Fraser at some point between 1653 and 1655.
The resulting destruction of the attack shattered the windows of the building and shards of 17th century glass were soon pounded into the earth by the boots of marching soldiers.
This summer, some of those tiny bits of window were uncovered by hundreds of amateur archaeologists as part of a major project by the National Trust for Scotland (NTS).
More than 400 members of the public have taken part in wide-scale excavations at the charity's Crathes Castle and Castle Fraser over the past two weekends.
Working alongside professional archaeologists for the NTS, the volunteer diggers discovered a host of intriguing finds that have helped historians glimpse what took place during some of the bloodiest periods in the north-east.
Daniel Rhodes, archaeologist for the NTS said: "The mid-17th century was a volatile time in the north-east.
"Following a peaceful surrender, the Marquise of Montrose camped his royalist army at Crathes in 1645.
"And sometime between 1653 and 1655, Castle Fraser was attacked by Oliver Cromwell's General Monck as he supressed royalist supporters.
"The concentration of broken window glass around Castle Fraser may be a result of this destruction."
As well as coins and broken glass, the hundreds of volunteers also unearthed a treasure trove of other artefacts, including 19th century pottery and wine bottles, roof slates and nails dating to the 18th century.
And going even further back in time, some of the researchers discovered evidence that suggested prehistoric activity in the area, such as chipped pieces of flint – although one of the buried rocks was identified as most likely belonging to a flintlock musket, placing its origin in a much more modern era.
Mr Rhodes added: "It is great to see so many people come out and take an active part in their heritage.
"In addition to the protection and promotion of our properties, the Trust is keen to provide engaging experiences and the last two weekends have proven a major success in involving the public in what we do for the love of Scotland."