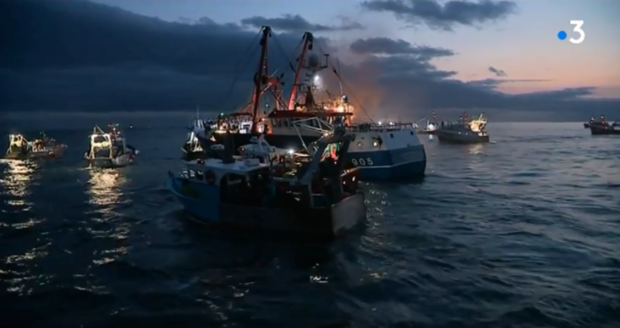 A north-east fishing community united yesterday to slam the actions of the French fishermen who attacked the British fleet.
Skippers and fish processors in Peterhead have criticised the continental crews for turning violent in the English Channel.
Colin Stephen, skipper of the trawler Harvest Hope, said he and his crew regularly face obstructions when they are working outside the UK.
He said Spanish-registered boats often cut across his vessel and can even work together to push it out of some fishing grounds.
Mr Stephen has slammed the actions of the French fleet and branded them "militants".
He said: "They will try and push you out of the way so they can reap the benefits.
"But it isn't their waters really, it is open for everybody to fish.
"What they are doing there is not right and for their own Navy to stand and watch is wrong.
"They're militants, they all group together."
David Leiper from Peterhead-based fish processing firm Seafood Ecosse accused the French fleet of "spitting out the dummy" over fishing rights in the English Channel.
He said the attack by the fleet of continental fishermen was "crazy."
Mr Leiper said: "The British boats have fished their legally and are entitled to fish there.
"So to put lives at risk by the French going out there to cause problems is crazy.
"You don't see our boats behaving like that when the French boats are fishing in our waters. It is absolutely ridiculous."
Mr Leiper said the French fleet "walked away" from talks before a fishing agreement could be reached this year.
He said: "The French are the people who walked away from the table because we normally always get an agreement.
"They didn't come to the table this year so we are entitled to go in a month early like we always do.
"For them to spit out the dummy because it didn't go their way is typical."
One skipper, who did want to be named, said he does not expect instances like this to suddenly stop post-Brexit.
"There probably won't be any difference when we come out of Europe anyway.
"They should be taken to court for this. They should have their licences to skipper boats taken away.
"The French guys have put themselves in a life-threatening position."