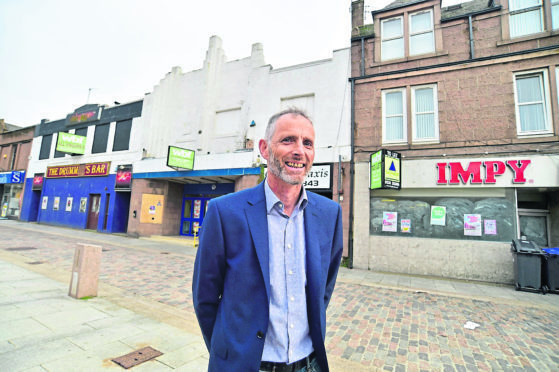 Plans have been lodged to turn a former bingo hall in Peterhead into a restaurant and a function room.
A planning application has been submitted to Aberdeenshire Council to redevelop the site on Marischal Street this week.
The building has remained empty since the bingo hall closed at the start of January this year.
Plans put forward have requested approval for a change of use of the building to a restaurant with an adjoining function room and takeaway facility.
Company Sava Estates bought the premises at auction earlier this year.
Last night, John Pascoe, manager of the Rediscover Peterhead business improvement district, welcomed the move.
He highlighted the bingo hall redevelopment as being a postive way forward for the street which comes on the back of the recent announcement to open a bar next door.
Mr Pascoe said: "These two things combined will start putting some life into the centre of town.
"Any investment from outside the town is welcomed by us.
"It has been difficult to fill this space because it is a cinema building and it is quite difficult to develop.
"But it is great that some of the empty spaces in the town are being used."
The supporting statement submitted with the plans states: "The property has been vacant for almost a year so this proposal represents an opportunity to regenerate the property and to deliver a quality restaurant and a fine dining experience.
"Given the prominent location on the pedestrianised zone it is important that the ground floor is animated and contributes to the street scene, rather than present as a vacant building which can rapidly become a disamenity.
"The increased activity generated by the new restaurant will contribute to the street scene by animating the area, in the process helping to provide a safer and more welcoming environment through the presence of more people."