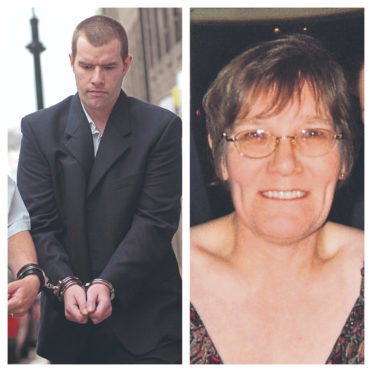 An axe murderer has been freed from jail just 11 years after hacking his mother to death.
Euan Munro carried out the frenzied attack on Helen Turner after a night of drinking.
He struck the 53-year-old several times on the head with the axe he fetched from the garden shed of their home in Insch on December 19, 2006.
---
>> Keep up to date with the latest news with The P&J newsletter
---
Afterwards, Munro drove to Aberdeen, called his sister and police and told them: "I think I've killed her."
The 42-year-old admitted the murder and was sentenced to a minimum of 11 years by judge Lord Menzies.
Now the father-of-one has been released, and is building a new life for himself in the Mearns.
Munro is now at liberty following a spell in the open estate although his precise whereabouts are being kept strictly private.
He will now remain on licence for the rest of his life and can immediately be recalled to prison if he was to breach the terms of his licence.
A spokesman for the Scottish Prison Service said: "I can confirm that we would normally prepare somebody for parole consideration in a variety of ways including programme intervention and testing with community access.
"Those prisoners released on parole from life sentences remain on licence for the rest of their lives and can be recalled to custody if they breach licence conditions or are involved in any further criminal behaviour."
Munro carried out the attack on Mrs Turner after a night drinking at the Commercial Hotel, Insch, where witnesses said he had seemed in "good spirits".
When police arrived at the property, they found Mrs Turner – who had previously raised concerns about her son's drinking – lying in bed with the sheets up to her neck. The axe was still lying in the room.
Shadow justice secretary Liam Kerr has campaigned for the adoption of Michelle's Law proposals – which allow victims and their families to give evidence when parole or early release is being considered.
The North East MSP said: "Although the original sentence of life imprisonment was appropriate, this man has served a short 11 years for a horrible crime.
"The victim is not here to consider whether her son has served long enough.
"So it is up to the prison service to make sure the rest of the family understand why they have made this decision, and how it will affect them."
If a person is sentenced to life imprisonment, the judge must, by law, set a punishment part of the sentence.
This is the minimum time the person must spend in prison before they can be considered for release into the community by the Parole Board for Scotland.
The killing that shocked Insch
Euan Munro attacked his mother Helen Turner following a row when he got home from the pub.
She had reprimanded him for excessive drinking and threatened to throw him out of the house, and even refused to help him visit his child.
Munro, who was 31 at the time of the attack in December 2006, stormed out to the garden shed and fetched the axe – which he then hit Mrs Turner over the head with.
The High Court in Aberdeen heard that Munro's sister, Angela Turner, had received a blank text message from her mother's mobile.
Shortly afterwards, she received a call from her mother's phone but realised it was her brother.
The advocate depute told the court: "On answering she heard a person crying and the person said, 'Me and mum had an argument. I think I've killed her'".
Munro then called police and broke down in tears after telling them he had struck his mother on the head with an axe in the bedroom.
Officers found Munro sitting in his car on Bedford Avenue, Aberdeen, in "a very tearful and upset state".
The court heard Munro was not mentally ill but had suffered depression caused by alcohol abuse.
He had been a "peaceful member of the community" until a sequence of traumatic events including the death of his stepfather.
The killing shocked residents of Insch, who reported that Munro had only been living with his mother for a few months before. Neighbours described Mrs Turner as a "nice woman" who would "help anybody" and "would never see you stuck."
During sentencing, Lord Menzies told Munro: "This case is a tragedy.
"It is a terrible, terrible thing to kill your own mother, particularly in the awful way this murder was committed, and that is something you will have to live with for the rest of your life."