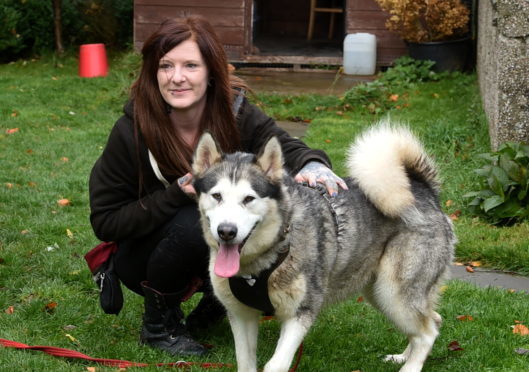 The owner of a sanctuary for dangerous dogs destined to be put down aims to expand its services because there is no room for any more animals.
Until Every Dog Has a Home is a non-profit organisation based in Garmond, Turriff, which offers free behavioural training for high risk dogs within the rescue system.
It also offers lifetime placements for former pets unable to be safely rehomed.
---
>> Keep up to date with the latest news with The P&J newsletter
---
Many of the pooches taken in have had dates set to end their lives due to aggressive behaviour.
Founder Karen Fairclough started the organisation after gaining training qualifications following years of experience as a dog walker.
She currently has 15 dogs in her care and has the heartbreaking task of turning away dozens more every day due to a lack of space and time.
Miss Fairclough hopes to turn this around by expanding the service.
The 34-year-old said: "It's just me right now so I do the fundraising, finances, admin as well as care, clean, walk and train 15 dogs – it's reached the point that if I take more dogs I need more people.
"Many dogs are put to sleep because they've no where else to go after biting someone.
"For many, I'm their last lifeline.
"I started the organisation as caring for as many dogs takes a lot of help.
"We need people to help with admin, cleaning, home checking, fostering – all sorts of things.
"We also need more space so I'm hoping to raise thousands of pounds so we can buy some land, built a concrete kennel block and take in more dogs.
"Ideally I want to create a team of fosterers who are trained to take on the less dangerous dogs and help find them a suitable home.
"I won't stop until almost every dog has a home."
Miss Fairclough gives the dogs rehabilitation and behaviour training as well as sanctuary for life if they cannot be rehomed.
Although the dogs in her care have often bitten in the past and shown aggression towards humans, she said their behaviour can often be changed.
"The most important thing is building trust with the dog," she added.
"Dogs should have a choice – like a child, you can't teach them by forcing them to do things so when a dog bites it's because it has been forced to and then thinks it has worked.
"I'm aware we can't save every dog but we can try our best."
For more information visit www.untileverydoghasahome.com
Charlie's journey
The first permanent resident of Until Every Dog Has a Home has completely changed since arriving but still is unable to be rehomed.
Charlie, a Staffordshire Bull Terrier, was brought to the centre from the Isle of White.
He's completely deaf and, due to a change in circumstances, his owner couldn't keep him so put him in the care of a rescue home.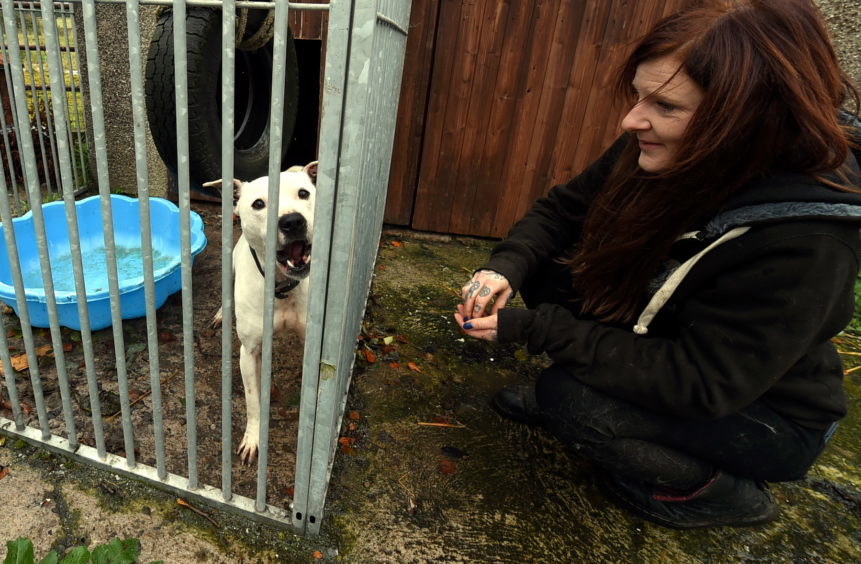 Charlie lasted 36 hours before the owner had to recollect him as he was having nose bleeds, severe stress and anxiety due to his attachment to his owner.
Karen Fairclough at Until Every Dog Has a Home was contacted and he made the journey to join her in Aberdeenshire.
She said: "When Charlie first got here, you could be 100 metres from his kennel and he would be going mad, throwing himself at the walls – if he got a hold of someone he probably would have killed them.
"After a year of building trust, he's happy to be around people, take treats and has really come a long way.
"If we tried to rehome him it could have crippling consequences so it's better for his welfare that he stays."
Charlie, although still aggressive if something spooks him, is now able to be taken out on the premises for walks.
Miss Fairclough said: "We gained his trust and taught him to walk on a catch pole so that if he gets scared he can't attack me and we can get him safely home.
"He's still a dog able to do what dogs love to do and one day I hope he can go out walking in quiet public places."