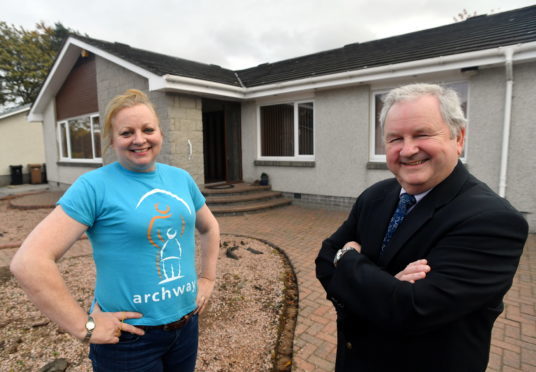 A north-east charity has launched a £100,000 fundraising campaign to transform a bungalow into a housing complex which will allow disabled people to live more independently.
Archway, which was established by parents and carers more than 30 years ago, is aiming to convert a property on St Margaret's Place in Aberdeen.
It is hoped that the house will become permanent accommodation for people with learning disabilities from the city and Aberdeenshire.
There will also be support on offer on  a 24-hour basis under the project, and each of the four residents will become tenants in their own right.
The charity says the scheme will help those people develop independent living skills, and will provide them with the confidence they need to live as full a life as possible.
Chairman Jim Sangster said that fundraising for the scheme had been taking place for seven years ahead of the purchase of the house in May, for £320,000.
But he said that the renovation of the bungalow presented significant financial hurdles which members are now seeking the assistance of generous north-east locals to help overcome.
Mr Sangster said: "Before the new service can begin, the charity has to completely renovate and re-develop the property.
"Plans have been drawn up and consents are in place but Archway now needs to raise another £100,000 to complete the project."
The work includes converting a garage into two wheelchair-accessible bedrooms and a wheelchair-accessible wet room.
Ramps need to be installed at all entrances and exits, along with an accessible bathroom with a hoist system, and a new kitchen and heating system.
Doorways also need to be widened, the house requires a complete redecoration and parking spaces need to be created at the front of the property.
And one small bedroom will  be changed into a communal activity area.
Mr Sangster added: "We are appealing for help from local companies, individuals and community groups.
"With their support we can complete the project sooner rather than later."
The charity hopes to start the work in the next few months, with people moving into the property by next spring.
People wishing to donate can email Janine.davies@archway.org.uk or call 01224 643327.