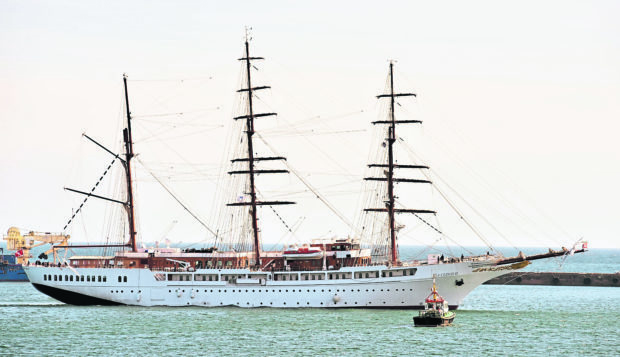 Tourism chiefs are stepping up preparations to ensure 2019 is a bumper year for cruise visitors.
Preparations are already under way for next year, when thousands of cruise ship passengers are expected to arrive following the expansion of both Peterhead and Aberdeen harbours.
The scale of the work has been outlined in a new report which will go before the councillors and industry leaders overseeing the implementation of the City Region Deal later this week.
In recent months, sales teams have ventured to Germany to persuade cruise firms to consider the north-east as a future destination, and further trips elsewhere in the UK, Europe and north America are planned between now and the end of spring.
Work is under way with businesses to help make them "cruise ready" with packages such as Highland cattle farm tours and tea with the laird of an Aberdeenshire castle among those now on offer.
In addition, special courses have been planned through to the end of September to ensure the region has enough qualified tour guides to meet demand.
And while live bagpipers are already being lined up to welcome every group of guests, tourism bosses are looking for other forms of quayside entertainment to "truly differentiate" the region from others.
Last year around 2,500 visitors disembarked at Aberdeen Harbour, boosting the region's economy by an estimated £175,000 – or around £70 per person.
Meanwhile another liner arrived in Peterhead in the summer and at least six more are scheduled to arrive next year.
These numbers are expected to soar as Aberdeen Harbour's £350million expansion and the £50million upgrade at Peterhead will make it much easier for larger vessels to dock.
Karen Day, chairwoman of Peterhead Scottish Week, said the town received a massive boost when the £31m Sea Cloud II berthed there in the summer.
"It was a fantastic way to showcase the town," she said. "All of the shops see the benefits when there's a cruise liner in."
In his report Chris Foy, chief executive of Visit Aberdeenshire, said: "Based on the current range of products and the new products recently developed or under development, Visit Aberdeenshire has put together a very wide range of excursion itinerary options.
"Itinerary and product development will continue to evolve as cruise companies operating larger vessels select Aberdeen as a destination port."