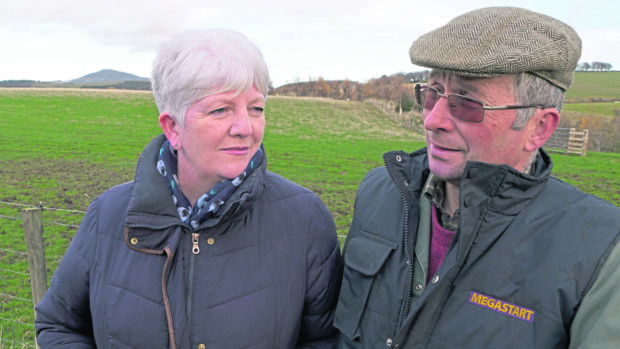 The farming family at the centre of last month's BSE storm have for the first time revealed the full extent of their shock and heartbreak.
Speaking to BBC Scotland's countryside magazine series Landward, Aberdeenshire farmer Thomas Jackson said: "I've been farming for 45 odd years, trying to make a sort of reasonable job of it, and then all of a sudden you are of world-wide interest for all the wrong reasons."
An individual case of BSE (bovine spongiform encephalopathy) was diagnosed at their farm, in the Huntly area, after a cow became ill, with what was initially thought to have been a fairly common mineral deficiency.
Routine testing of the animal after its death revealed BSE – the first confirmed case of so-called Mad Cow Disease in Scotland for a decade – with the subsequent public service announcement causing shock waves throughout the Scottish farming community and provoking international headlines.
All restrictions on their farm have now been lifted and the family have for the first time talked in depth about the devastating toll of the diagnosis.
Thomas – who was hundreds of miles away to attend his mother's funeral when the news went public – and his wife Fiona revealed to Landward presenter Euan McIlwraith that the crisis pushed them to considering giving up farming.
Detailing the time when the story was at its height, Fiona: "It was hard work for me, literally being in tears…and just wanting Thomas to stop farming, wanting him to stop what's he always done, just because it was so upsetting."
The couple moved up from Gloucestershire six years ago to take on the farm, at which they have a small pedigree herd of Aberdeen Angus cattle.
The couple were totally shocked to receive the BSE diagnosis and initially believed it had to be a mistake.
---
---
Thomas said: "My initial thought was don't be so stupid, because the cow had never had any concentrates and that's where I thought it came from, so I just thought well they have made a big mistake here.
"We were the least likely people as far as I was concerned to ever turn up a case."
The family had initially thought the cow was suffering from a not uncommon magnesium deficiency and had called out a vet to treat it.
According to Mr Jackson, the cow had classic symptoms of the deficiency.
The cow died and being more than four years old, the carcase was subjected to routine testing by Animal and Plant Health Agency (APHA) which then diagnosed BSE.
Thomas Jackson was in England to attend his mother's funeral, when the public announcement about the case went out.
After he returned, four other cattle from the farm were culled and tested. They were found to be clear of the disease.
The detailed investigation into the case has yet to conclude, though Scotland's Chief Veterinary Sheila Voas has stated she believes the case was a one-off, a spontaneous genetic mutation. All restrictions on the Jackson's farm have been lifted.
The family say the whole experience has been devastating. Said Fiona: "I wasn't here when the animals were put to sleep. Thomas was. I came to see him and just thought he's just a broken man. He's worked so hard all his life for these animals. He loves these animals. They are really important to him"
While the couple revealed that the experience has led them to question their future in farming, they are now resolved to keep going.
Thomas said: "Our whole life and all our worldly goods are invested in this farm, it not just something you are going to chuck."