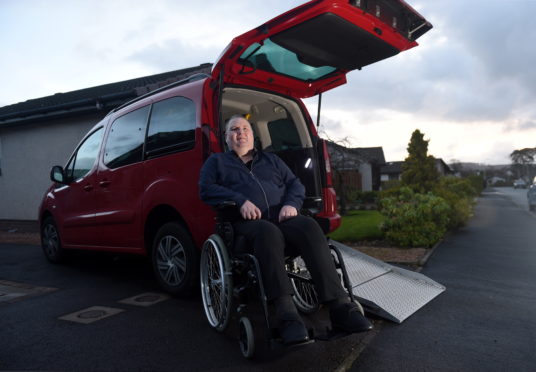 An MS sufferer is delighted the AWPR road is now open to traffic after making a "tortuous" weekly two-hour long journey to receive vital treatment.
Graham Millar, 56, was diagnosed with primary progressive multiple sclerosis 16 years ago and attends the Grampian MS Centre in Dyce for weekly treatment in the hyperbaric chamber on site.
His wife Heather explained that up until the AWPR opened, the journey for her husband in the back of their customised car had been "tortuous".
Mrs Millar, 55, shares the weekly car trips with their daughter Lynn, and said: "We take week about to drive him to Dyce – all the journeys for the last 13 years have been agony for Graham.
"He would feel every roundabout, every stop and start – it was like torture.
"The AWPR has transformed it not just for the travelling time – but for his comfort – it's so much smoother and takes us straight to where we need to go.
"Watching the new road take shape all this time – it has been like a huge carrot on a stick just dangling there in front of us.
"There were some days when he just couldn't face the journey to Dyce, because of the discomfort – but not many.
"I'm absolutely elated that these times will now be behind us – we don't need to dread the journey anymore."
Mr Millar agreed it was like "day and night", he added: "The difference is incredible – it will transform my life.
"I think anyone who designs roads should try travelling in a wheelchair in the back of a car to see what it's like, just to get a feel of the discomfort.
"I go up to the Dyce centre once a week to use the hyperbaric chamber – it usually takes just under an hour one-way, but we timed it today on the AWPR and it was just 28 minutes.
"The treatment is similar to what divers get when they are treated for the bends – it's a high pressure chamber.
"I have been getting weekly treatments for 13 years, the doctors can't tell if it's making a difference – but they do say that I should keep doing whatever it is that I'm doing as it seems to be doing me some good."
>> Keep up to date with the latest news with The P&J newsletter
---