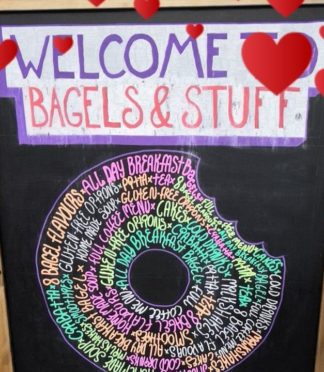 A beloved Aberdeen café has closed its doors for the last time.
Bagels and Stuff, on Thistle Street, issued a statement yesterday confirming the business would come to an end.
A spokesman from the company said: "We have taken the decision after four fantastic years to hang up our bagel hats and move onto pastures new.
"We have had the most fantastic time, worked with undoubtedly the best team and met the greatest people.
"Sometimes life just throws you a curve ball you didn't see coming and in this case that is certainly true.
"A massive thank you to those who have been there for us the last few weeks and helped us through, our amazing team of girls, family and friends and here's to new adventures in 2019."
In 2015 Bagels and Stuff had scooped the prize for "Most Promising New Business" at the Elevator Awards, which was attended by 400 business representatives and attended by astronaut and US Navy Captain, Steve Bowen.
Yesterday customers expressed their sadness at the beloved cafe's closure.
Alanna Milne described Bagels and Stuff as "a welcoming lovely place."
She said: "Absolutely devastated – have loved coming over the years. Good luck for the future."
The company was known for its unique flavour combinations, such as bacon and peanut butter and the popular cheeseburger bagel.