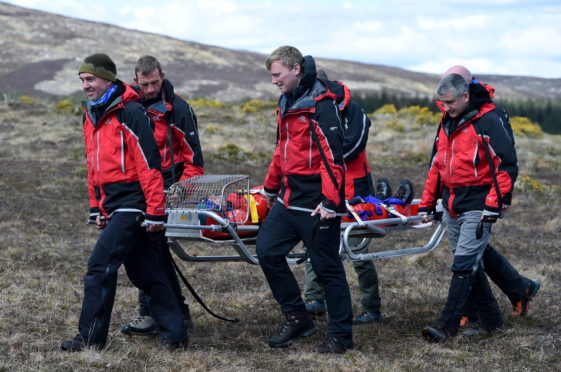 Sergeant Peter Lorrain-Smith is browsing in a book shop when his phone suddenly rings with the police control room on the other end.
For the next hour, he co-ordinates a search and rescue operation using a map he has pulled from a nearby shelf.
He laughs as he recalls the incident and admits he regrets not keeping the map so he can use it to illustrate the round-the-clock nature of his job.
Sgt Lorrain-Smith is the national search and rescue coordinator for the force, a member of the Tayside Mountain Rescue team, and someone who has "walked in the hills for the last 45 years".
As well as assisting lost and injured walkers, mountain rescue teams can also be called upon to help with major operations such as missing person searches.
Last year there were 32 bodies recovered from the hills, this year there have been 13 so far.
Earlier this year, 55-year-old Irene Bytautas was killed in a freak accident when she was struck by lightning while out walking in the Mamore mountains.
And in June, 70-year-old Ronald Garwood, of the Roybridge area, fell to his death while  trekking on An Teallach near Dundonnell.
Because of the sergeant's day job he says he is more adept at dealing with some of the more traumatic events the some 1,000 rescue team members across Scotland can be faced with.
With this in mind, the national Scottish Mountain Rescue organisation has developed guidelines for rescuers so they can hope with the pressures of their work.
Each member is now given a book which gives them help and support and the right steps to take if they are struggling.
They are also given the same support that is available to police officers to help them cope with traumatic experiences.
He said: "Well-being is a very important aspect of what mountain rescue teams do.
"It was becoming very obvious that something needed to be done.
"If you feel really bad after a traumatic incident, that's a normal response to an abnormal event.
"Seeing a dead body or someone with a badly broken leg is going to be a shock, these feelings should subside after a few days, and if they don't then people know they can go and get help."
The scale of some operations often means volunteers – though Sgt Smith hesitates to use this term as each team member is highly skilled – have to drop what they are doing and can be out to all hours of the day and night.
And because of this, their work does not just take its toll on rescuers, but also their family and loved ones.
He said: "When people go out they often don't know how long they are going to be away for and what they are going to be doing when they get there.
"I have come back at 5am and I really don't want to discuss what I've been doing with anyone, I often just want to go to bed. Or sometimes I might need to have a shower because I'm cold and tired so that means I might wake up other members of the household."
And he says it can often be the every day sacrifices volunteers have to make that has the biggest impact on their lives.
"We had one guy who had missed a rugby tournament that his son played in years ago, and still rankles with him," Sgt Smith said.
"It's those types of stories and things that can have the biggest impact, you look at it from the outside and think it shouldn't be a big deal but if it sticks in your mind then it is going to be."