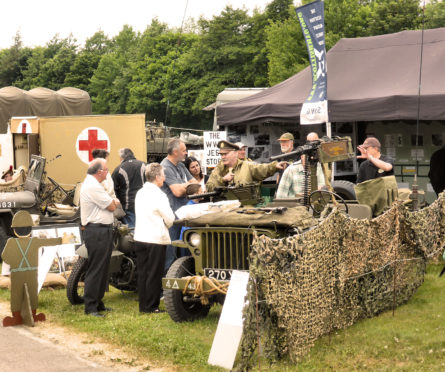 Owners and collectors of military vehicles have been urged to take  them along to Grampian Transport Museum next month.
The Alford attraction is hosting its annual Military Vehicles Tattoo on June 9 and is looking for entrants.
There have already been a number of vehicles signed up, including a Land Rover that was used in hit shows The Crown, Downton Abbey and Midsomer Murders.
Neil Thomson, assistant curator and events coordinator at the museum is hoping this year's event will be the best ever.
He said: "The 2018 military vehicle tattoo was an excellent day. Not only did we have a tremendous display, but a lot of people said they had or knew of other vehicles and military memorabilia which they would like to bring along.
"This is our call for them to enter for the 2019 event and help us to make it really special at a time when the Second World War D-Day landings are being commemorated on their 75th anniversary."
Spectators will be able to marvel at a host of vehicles, weapons and equipment from various conflicts.
There will also be a parade around the track and other fun activities for children.
Potential entrants should contact Mr Thomson at events@gtm.org.uk