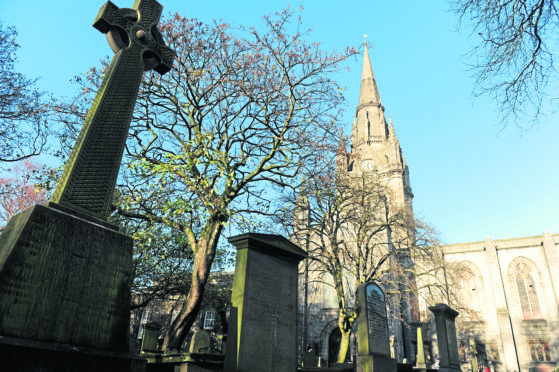 Renovating a historic church, building mini-parks, creative signage and installing 'smart' street lighting are among the options for Aberdeen council chiefs when they choose how to spend a more than £1 million windfall this week.
Councillors on Thursday's city growth committee will be faced with a list of eight projects totalling £1.6 million.
But some are unlikely to make the cut as the Scottish Government has allocated £1.35 million from its national £50 million Town Centre Fund.
Among the ideas are boosting cycling and walking around Tillydrone's Hayton Road at a cost of £90,000 and creating San Francisco-style 'parklets' – small green public spaces in Huntly Street and Castlegate at a cost of £80,000.
They also include replacing the heating system and installing a wheelchair ramp at St Nicholas church in a project that would cost £390,000.
A total of £400,000 could be spent on the creation of suspended signs to identify streets while work is already progressing on installing 1,000 intelligent lampposts using a contribution of £125,000 suggested by council officers.
Another £60,000 suggestion would create a 'living wall' on Flourmill Lane which would be covered in greenery.
Council co-leader and committee convener Douglas Lumsden said: "We are using the money that has been allocated by the Scottish Government to try to improve the city centre as much as possible and make it a more inviting space for people to come and spend time.
"There's not enough money to do all of them but at committee next week we will see what people prioritise.
"It's good we've got the opportunity to look at some of these ideas and see if we are able to bring them to life."
Hazlhead, Queens Cross and Countesswells councillor Martin Greig, who also holds the ancient title of Master of Kirk Works, has said he would support the renovation of the city centre church.
He said: "The council owns the bells in the tower. It contains the largest set of carillon bells in Britain.
"The church is an important city centre landmark and Aberdeen is looking ahead to developing its tourism industry.
"It is overlooked and undervalued and I think it is time we valued this ancient building and cared for it more.
"Aberdeen has very little of tourist value so here is an opportunity to prepare and develop a civic treasure that is hidden in full view."
SNP Councillor Alex Nicoll, who is city growth spokesman: "It's fantastic that we are in a position to spend an additional £1.3 million on our city centre, solely thanks to this additional investment by the Scottish Government.
"The suggestions put forward deserve to be considered in full and we will certainly be doing that over the coming days."