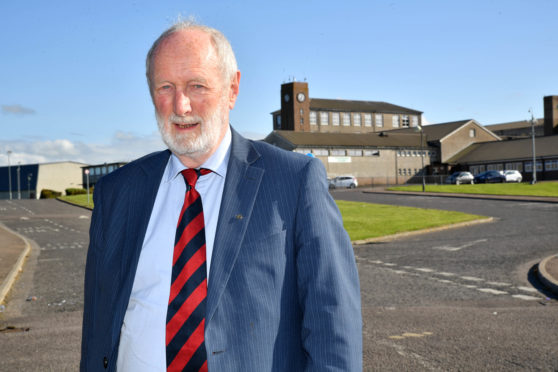 A north-east dad has branded a school's uniform policy "ridiculous" after paying nearly £100 for an outfit he believes his daughter will only wear for weeks.
Fraserburgh Academy's policy is for pupils aged from S4 to S6 to wear uniforms, whereas S2 and S3 pupils adhere to a dress code where they wear the school colours.
But as the children go through a transition period, moving into the year above four weeks before the summer holidays, those going from S3 into S4 are required to wear a uniform for that period.
Although this version of the uniform is relaxed – requiring only a shirt or blouse, plain black trousers or skirts, jumpers in black school colours and a school tie – some parents have raised concerns about the likelihood of their children outgrowing the attire during the break
Christopher Share has now spoken out after his S3 daughter was told she had to be wearing correct uniform for lessons the next day – and feared being told off if she arrived at school without the correct clothing.
The devoted dad went out to the only shop open at the time and spent nearly £100 on two blouses, two jumpers and a tie.
Mr Share said: "As she is 15, she will have probably grown out of what I just paid nearly £100 for between now and the start of next term.
"For me to then have to buy it again, because the school has a weird uniform policy, is a disgrace.
"There are many others frustrated at the fact we will end up paying twice.
"They say that because she started her S4 timetable she is classed as an S4 student. But we see her as an S3 until the start of the new school year.
"I probably could have got the outfit cheaper online, but needed it for the next school day.
"If the uniform changed with the term, or the school at least made it obvious when the uniform changes, then it would be better."
By 2021 every Fraserburgh Academy pupil will be required to wear a school uniform, and the change is being phased in.
Councillor Charles Buchan used to teach at the school and said that problems surrounding the uniform have been "intensively debated at the parent council year after year".
He added: "I feel for those parents who feel like this, and I'm sure the school is willing to help any parents and hold discussions for those who need assistance."