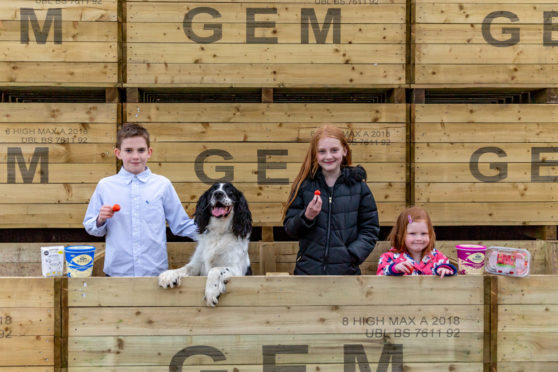 A new food and drink pavilion will be introduced at this year's Turriff Show after £70,000 of investment.
Scotland's biggest two-day agricultural event will be hosting its 155th show this August and for the first time will feature the pristine pavilion.
It will include more than 50 stalls with a range of produce from growers and makers from Aberdeenshire and further afield, highlighting such companies as artisan yogurt makers Rora Dairy, homegrown meat farmer ad producer Louise's Farm Kitchen and the Teasmith: Scotland's first gin makers to distil with hand-picked tea.
The show will take place on August 4 and 5.
Rora Dairy owners Jane Mackie and her husband Bruce produce healthy yoghurt on their family dairy farm near Peterhead.
Mrs Mackie said: "This is our first year exhibiting at Turriff Show and we are very much looking forward to it.
"It's a wonderful show and people from all over the country come to visit.
"We will have some of our favourite products for visitors to sample and purchase, including our natural and Scottish raspberry flavoured yoghurts."
Also in the pavilion will be a cookery theatre with chef demonstrator Kate Moore entertaining crowds with farm-to-fork stories.
This year's show president Graeme Mackie is a local potato farmer.
He said: "Turriff Show has a strong history of being one of the most prestigious agricultural shows in Scotland, but it is not just for farmers.
"It has evolved over the years to become a celebration of food, farming and the rural environment with over 23,000 visitors annually.
"Feedback from last year's event illustrated how important food and drink is to our visitors, so we have invested in a vibrant mix of stalls and demonstrations.
"It is the perfect opportunity to showcase the excellent businesses in the area that create farm-to-fork products and services including local fruit and vegetables, farm meat, veg box schemes, farm shops, farmers' markets and artisan bakers."
The £70,000 investment has been supported by a range of organisations including Opportunity North East, Aberdeenshire Council, Connect Local Regional Food Fund and the main sponsor EQ Charted Accountants.
During the two-day show, there will also be a new bandstand to showcase local performers, arts, crafts and an area of picnic benches for visitors to relax, as well as the livestock competitions.
Tickets are now available at www.turriffshow.org