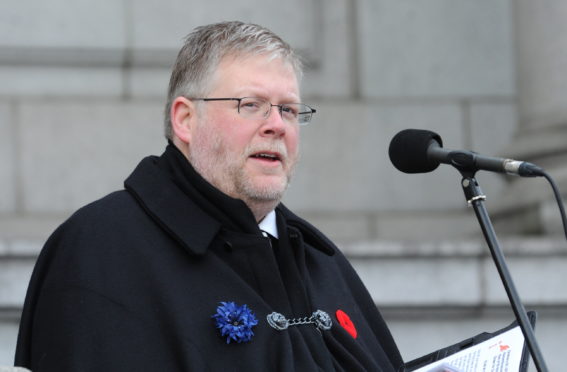 An Aberdeen minister has claimed he has been "forced out" of his leading position at an historic city centre church.
American-born Reverend Stephen Taylor has led the congregation at St Nicholas Church Uniting for the past 14 years.
But following a decision by the Synod of the United Reformed Church (URC), which was appealed by the congregation, Mr Taylor's term has not been renewed.
The A-listed building, which has been the site of a church dating back to the 12th century and which also holds Scotland's largest carillon of bells, is owned jointly by the Church of Scotland and the Open Space Trust.
However, services on the side owned by the church are conducted by the URC under an arrangement between the two presbyterian denominations.
Kirk chiefs are currently conducting a wide-ranging review in the city to see which churches and congregations still have a viable future.
A cap of £25,000 has been put on work on city Church of Scotland buildings while the review is completed.
Originally from Texas, Mr Taylor ministered in London for several years before moving to the north-east.
He said: "I've been forced to go. It is a termed tenure and the Synod didn't approve my continuation in the role there.
"When I heard the news, I was quite upset and so were my congregation.
"They wanted me to carry on and we appealed, but that has been refused.
"I want to stay in Scotland, but there are no vacancies at the moment in the URC, so I may look to the Church of Scotland."
Liberal Democrat city councillor Martin Greig, who holds the ancient title of master of kirk works, said he was disappointed by the news.
He added: "Mr Taylor is highly respected and has given valued ministry to St Nicholas Church and the city.
"A move into the Church of Scotland would be most welcome and I hope this will be straightforward.
"Although it is a case of remaining within the reformed tradition, there is still a certain process to be followed."
Rev Andy Braunston, secretary for the United Reformed Church National Synod of Scotland Pastoral Committee, said: "Stephen Taylor has been Minister of the Kirk of St Nicholas Uniting (United Reformed Church/Church of Scotland), Aberdeen, since October 2005.
"He was called for an initial period of seven years, which has subsequently been extended to fourteen years in total, to September 2019.
"In September 2018, Mr Taylor was given notice by the URC National Synod of Scotland that it would not support a further renewal of his tenure.
"In January 2019, that decision was upheld by the URC's General Assembly and Mr Taylor was given a year's notice period, to the end of January 2020, to make future plans.
"Although Mr Taylor will no longer serve as minister of Kirk of St Nicholas Uniting after January 2020, the URC's Synod Moderators (senior leaders) are happy to meet him and discuss his next steps, which might include exploring vacancies in other local churches across the denomination.
"We are grateful for the time Mr Taylor has served at the church in Aberdeen, and hope that this offer of support is taken up so that his active ministry can continue."