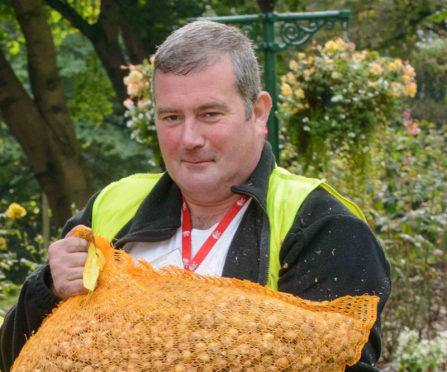 A prestigious national horticulture organisation have hailed an Aberdeen gardener who died at the weekend as a "gentleman and giant among peers".
Alan Gray, 55, was found injured in the city's Claremont Street at 4.30am on Saturday and later died.
The 55-year-old was a senior gardener at the city council, and worked to beautify green spaces for 40 years.
He was instrumental in bringing prestigious Britain in Bloom titles with his hard work around the city's parks and gardens.
Britain in Bloom organisers, the Royal Horticulture Society (RHS), noticed his work and invited him to be a volunteer judge.
Darren Share, Chair of the RHS Britain in Bloom judging panel said: "Alan was a true ambassador for horticulture, bloom and Aberdeen. Alan's experience, knowledge and personality made him an ideal person to be involved in his beloved Beautiful Scotland and Britain in Bloom.
"Alan had only recently joined the RHS Britain in Bloom judging team but he certainly made his mark. Alan was a gentleman and a giant amongst peers.
"Quietly spoken with an eye for detail Alan was well liked and respected by all those who met him.
"Alan will be sadly missed by his friends on the judging panel and by everyone at the RHS. He will be fondly remembered by all.
"The bloom family has lost an inspirational friend far too soon."
Earlier this week, Mr Gray was described as a "very valued colleague" with a "heart of gold".
Colleagues praised his expertise, enthusiasm and knowledge and said he had played an integral part in winning "countless" Scottish and UK-wide awards.