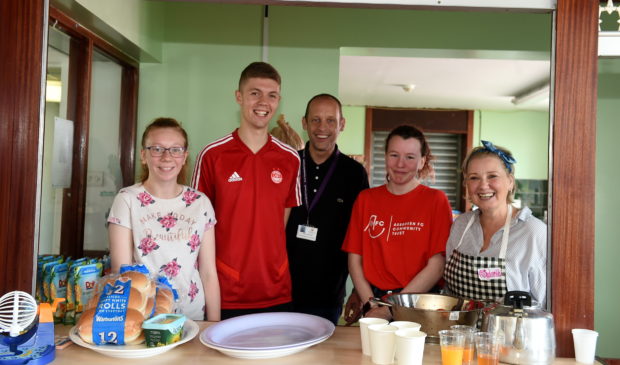 Community groups across the north and north-east have been playing a major role in helping to alleviate "holiday hunger" among schoolchildren over the holidays.
Since last summer, Aberdeen-based CFine has been catering for about 200 children while schools are on break, supplying a range of food to schools and community centres in the city's regeneration areas.
The social enterprise has teamed up with Sport Aberdeen, Aberdeen Football Club Community Trust, Aberdeen City Council and Scottish Government to run a six-week programme called Food and Fun.
The initiative was put in place as a wider attempt to take pressure off parents living in poverty, who may be worried about having enough money for meals – with their children not able to access their free lunch at school.
In addition to providing breakfast, healthy snacks and a hot lunch, the children are also treated to games and activities throughout the day.
Fiona Rae, depute chief executive at CFine, said: "It all came about out of the need for children who are primarily on free school meals within the city.
"But this has been rolled out in many cities in Scotland, I'm sure in England as well. However, Scottish Government is supporting us to do this with some funding.
"Last year was the first time we ran this scheme. We worked in partnership with Aberdeen City Council in the school kitchens and the council's catering staff were involved.
"What we did was deliver all the food to the sites which was then cooked by the council staff.
"This year, CFine is solely responsible for delivering the food and the meals to the sites. We're a bit limited this year to what we can provide, but it's packed meals, salad boxes and some hot meal."
Kelly Donaldson, a staff member at CFine, has been spearheading the meal preparations for the six weeks.
Her team of volunteers work in the kitchen from 7am, preparing roughly 250 meals a day for five days a week.
Delivery vans are then ready and waiting to make the drop-offs by 10am.
"We have a very committed staff who work for the next day," Ms Donaldson said.
"On top of the packed meals we're providing fruits, fruits for smoothies and healthy snacks. Anything we can sources from the FareShare route so people can benefit from it.
"The aim is to produce as much of the produce as possible and, looking ahead to the next year, we'd like to have access to the school kitchens to be able to cook on site."
Some of the youngsters benefiting from the scheme include Northfield Academy, Riverbank School, Tullos School and Cummings Park Centre.
Ms Rae said she hopes to continue to work in partnership with the city council.
"The council are pivotal that this happens, there's so much more that can be done.
"There's so many more children we could be accessing – since we're only delivering to four different sites.
"It could be there's more child poverty and children we're not accessing, even if we can't access every single one of them.
"There needs to be more awareness about what's going on so more families can engage with these schemes."
Wilma Smith, a community development officer on site of Cummings Park Centre, looks after about 35 children aged five-12.
She said: "We're supported by a team of volunteer from Northfield Academy, Sport Aberdeen and Aberdeen Football Club Community Trust.
"With the food we get from CFine, we try to get them to build their own sandwiches and get involved with their food.
"It helps them build up skills like using cutlery to neatly use spreads and taste new foods.
"Food is also very important socially, it helps them to sit down and have conversations with everyone. Especially adults and staff who sit with them, they start to have a positive relationship with adults.
"Food and Fun is helpful for parents who needs a respite – especially if they have three or four children, that's a lot of extra meals throughout the day.
"It also gives the kids something fun to do. Classmates will come back from their summer holidays after going to Disneyland or travelling somewhere and this gives the kids something to talk about too."
CFine also provides packed meals for Extreme Summer – an initiative organised by Transition Extreme and Police Scotland.