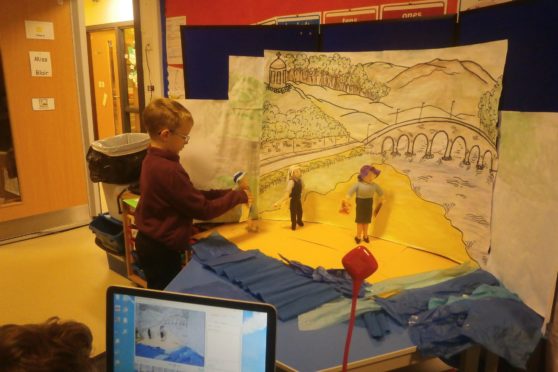 North-east school pupils have shared their concerns about plastic pollution by creating an animation of The Broons – where the famous comic strip characters speak in Doric.
Youngsters from Banff and Macduff have been congratulated on their work by Sir David Attenborough, Downing Street and even the Queen.
The letter from Her Majesty thanks the pupils and their teacher for telling her about the animation, and says that she was "most encouraged" to know of the pupils' interest in protecting the environment.
The 18-minute stop animation production, named Knitmare On Glebe Street, tells the story of the Broon clan discovering the dangers of plastic in the seas.
Primary five, six and seven pupils from the two schools were helped by teacher Dorothy Reid, who was inspired by watching a documentary about marine pollution.
After showing the pupils pictures of the damage, one child suggested they make a Broons video – which they then shared online to spread the message.
Mrs Reid said: "We're really, really excited.
"A letter from the Queen is right up there with Sir David's.
"It's unbelievable, but absolutely wonderful, that really busy people have taken time from their really busy schedules to read our letter and reply to us.
"Life is good and exciting – I'm a very proud teacher. Our video has been viewed about 2,000 times on Youtube as well.
"And if each person changes one plastic item to an environmentally friendly one, that's 2,000 items kept out of our seas or landfill."
The letter from the Queen was written by her deputy correspondence coordinator, Jennie Vine.
It reads: "The Queen has asked me to thank you for your letter, telling Her Majesty a little about an animation entitled Knitmare on Glebe Street which was recently created by students at Macduff and Banff Primary Schools to raise awareness of the effects of discarded rubbish on the planet.
"Although the Queen is unable to reply to you and your classes personally, Her Majesty was encouraged to know that your pupils are taking an interest in environmental issues and considering how plastic waste can cause injury or even death to marine and other wildlife."
It continues, informing the pupils of the policy to reduce plastic in the royal estates.
The film is available to watch on YouTube and can be found by searching for Knitmare On Glebe Street.