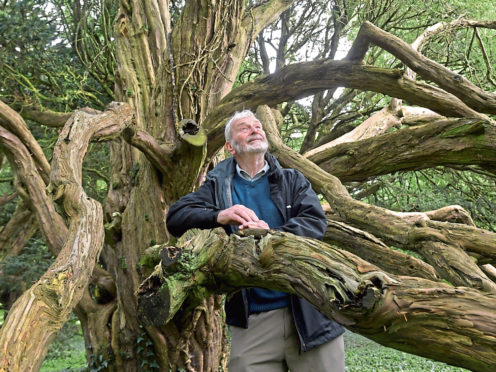 The ground is soft and damp beneath the yew trees, with the smell of wet earth in the gloom.
The gnarled trunks are hundreds of years old, and the branches create a canopy of soft green needles.
An 18th Century sundial rests in the shadows, its crumbling stone face covered in moss and grime.
But it will soon be returned to its former glory by a dedicated team of volunteers, who have taken over this historic site in Aberdeenshire.
It has been four years since the group were handed the keys to the walled gardens of Ellon Castle, after seven acres of land were gifted to the community.
People from all walks of life have come together with spade and pitchfork in hand, in a bid to uncover the splendour hidden beneath weeds and rubble.
Were it not for their dedication, this space would have remained the secret garden forever, unloved and unknown even to those who live in the area.
The wrought iron gate has been proudly flung open, and the public can now explore the vast site.
The project is still in its infancy, but there are ambitious plans for the garden to become a major tourist attraction.
It opened to visitors in June, and people have been able to enjoy guided tours thanks to volunteers such as Alan Cameron.
The former rector of Ellon Academy has been involved with the project from the very beginning.
We meet on a glorious sunny afternoon, and stepping beyond the wall is to leave the busy town behind.
The grounds are both beautiful and tranquil, with wonderful relics from the castle's past dotted around.
It has taken months of sheer graft to reach this stage, and Alan gets to work on weeding several days a week.
At 78 years of age, he admits he's not getting any younger, but hopes to continue with the initiative for as long as possible.
His wife and daughter have also become involved, for there is something rather captivating about the walled gardens.
Projects such as this can be found across the north and north-east, with people giving up their time and expertise to make their community a better place.
In an age where we may not talk to our neighbours, what drives people to come together for the greater good?
We discovered that community spirit is alive and well, with some remarkable people determined to make a difference.
Alan Cameron wears a wide-brimmed hat to avoid the sun's rays as he excitedly leads the way to the walled garden gate.
He steps aside to reveal a green corridor of manicured grass framed by flowerbeds, where lilac foxgloves grow.
We step inside and take a seat on one of the many benches which can be found dotted around the grounds.
"It's just lovely isn't it," he says, and gestures to the neat paths and trimmed yew trees.
"Some of these yew trees are pretty special, they go back hundreds of years."
Special would perhaps be an understatement; there are nine ancient English yews which are at least 500 years old, and some may be older.
The gardens are believed to be home to the finest collection of ancient yew trees in the UK. "Visitors come who have lived in Ellon all their lives, and they had no idea the garden existed," said Alan.
"They knew about the castle, of course."
The gardens are set against the backdrop of a 30ft terrace on top of which stands the ruin of Ardgith Castle, which dates from the 1400s.
"The walled gardens were gifted to the community as part of a planning gain arrangement," said Alan.
"I was invited to come on board the Ellon Castle Gardens community trust.
"I had already opted for early retirement from Ellon Academy.
"Then I went on to do a second degree, and I was leader of the opposition in Aberdeenshire.
"I initially thought why not, so I became secretary of the group.
"I stepped down from the trust for a little while, but they persuaded me to come back.
"If I wasn't doing this, I'd just be sat at home.
"When you get to a certain age, you don't just shut off.
"I don't want to spend my day doing the crossword."
Alan is remarkably fit for his age and leads the way to his favourite spot.
We stand beneath the branches of the yew trees, and a cluster grows in the exact centre of the gardens.
"If you look to the left and right, you get a mirror image," said Alan.
"You can stand here and see the stone benches against the wall at either end.
"I love to watch the red squirrels running along the branches.
"And I think to myself, could there be a nicer place than this?"
There are roughly 30 volunteers who come from a variety of backgrounds.
"We have just received an application from a retired minister," said Alan.
"We have people from the oil and gas industry and an accountant. It's a broad mix and we are always looking for more people."
Future plans include a shop and afternoon tea served in the grounds, plus renovation of the beautiful summerhouse.
With a determined bunch of people at the helm, there is no doubt that the dream could soon be realised.
It doesn't take a castle to inspire volunteers to do good though, as proven by a humble paddling pool in Portknockie.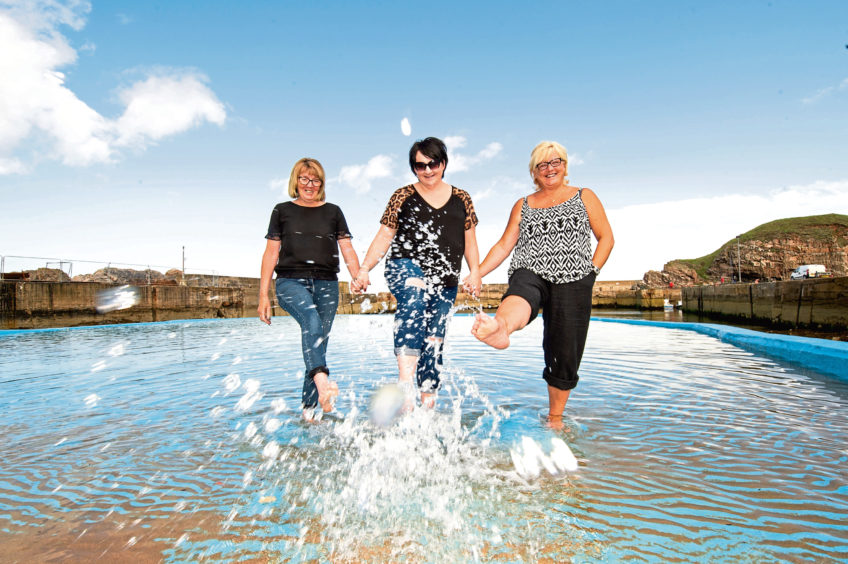 The bright blue basin in the Moray village might not appear particularly beautiful, but it represents decades of memories for both residents and holidaymakers.
With each high tide came a fresh wave of nostalgia for Donna Coull, who has lived in Portknockie all her life.
She can recall playing in the paddling pool as a child, and spent many summers there with her own daughter, Kirsty.
But fears were raised that a leaking valve and wear and tear would see the pool closed for future generations.
With a hefty repair bill of £28,000, it would have been easy to abandon the site to yesteryear.
Not on Donna's watch.
Together with fellow resident Lillian Urquhart, she raised a small army and set about fundraising.
The past two years have seen a mammoth effort, and the paddling pool can now be enjoyed for many years to come.
Donna believes that the campaign embodies the community spirit in Portknockie, with volunteers regularly getting together to clean sand from the pool.
"It's not just about a paddling pool, it's about what it represents," said Donna.
"The pool must be about 60 years old.
"It was previously run by the council and we took over 15 years ago. The council said either we took over or it would close, and there was no way the people of Portknockie would let that happen.
"People even come from Elgin and Banff to enjoy the paddling pool, there are so many memories here."
A valve which opened and closed with the tide fell victim to rust, and there was also a list of repair jobs.
"If myself and Lillian hadn't started to raise money, I know someone else would have come forward," said Donna.
"We started off with a garage sale and it just went from there, the support was overwhelming."
A mixture of donations, grants and money raised through fundraising events means plans are now afoot for a barbecue area.
Repairs have cost more than £24,000 so far, and the pool has been particularly busy this summer.
It is closed from October through till April, and is regularly cleaned and given a touch up of paint.
Donna's daughter Kirsty and her husband Steven have taken on the responsibility of general maintenance.
"Kirsty will put a post on Facebook saying she's going down to the pool for a tidy up," said Donna.
"And if people have the time, around 20 people will turn up to help.
"The wonderful thing about Portknockie is that everybody wants to be involved. Everybody works together."
Communities come in all shapes and sizes, and can even be the lifeblood in isolated areas.
Kyle and Lochalsh Community Trust has been working hard to make improvements to the village in Ross-shire.
Despite the stunning scenery, many tourists only pass through on their way to the Isle of Skye.
Joanna Wawrzyczek is development officer for the trust, and she has been inspired by the many projects on the go.
"I think community engagement can be very difficult in a place like Kyle of Lochalsh," she said.
"For some people who have lived here all their lives, there is an attitude that this is how it is here.
"Change is slowly coming and I find people's passion very inspiring."
The trust has recently purchased the old Skye Bridge ticket office, which has sat empty since toll fees were abolished in 2004.
It is also responsible for The Plock, a large area of land, around 60 to 80 acres, on the outskirts of the village at the access point to the Skye Bridge.
A master plan for The Plock includes a living Viking village, pitch and putt and a hub building which will include a cafe.
Further initiatives include space for local businesses to sell their products, potential accommodation for tourists and a children's adventure park.
"This is a 10-year plan at a cost of around £7 million, with funding potentially coming from the National Lottery Community Fund, National Heritage Lottery Fund and Robertson Trust," said Joanna.
"There used to be a golf course at The Plock in the 1920s, it was a place for older people to socialise. We want to bring that back with a pitch and putt, and a Viking village was one of the most popular ideas put forward by a resident. It is a really exciting time for us, and the toll office will become a base for the trust. We have around 30 volunteers, some of whom are newcomers.
"They are determined to make changes for the better, and that is wonderful to see."