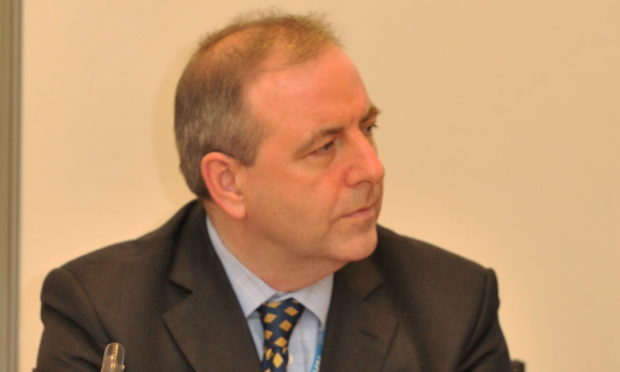 A tribunal has been told that investigators were not given the context around a derogatory remark the Queen's former surgeon made to his boss.
Professor Zygmunt Krukowski has taken NHS Grampian to an employment tribunal, claiming he was unfairly dismissed and that the board's treatment of him left his career in limbo.
The tribunal has previously heard claims Prof Krukowski made a derogatory remark about a colleague to the board's then-chief executive Richard Carey, which the 70-year-old has denied.
In June 2014, bosses called in the Royal College of Surgeons (RCS) in England to review a breakdown in relations in the general surgery team at Aberdeen Royal Infirmary.
The investigation found "unprofessional, offensive and unacceptable" behaviour at the north-east's flagship hospital and urged NHS Grampian to look into it.
A form – requesting the external review – had at one point noted that the phrase had been uttered "in a private conversation" as Prof Krukowski "joked" about colleagues to Mr Carey.
But the copy eventually sent to the RCS did not include that context, which NHS Grampian's current medical director Nick Fluck admitted yesterday "changed" how the remark appeared.
However, the version containing the additional information was provided to the General Medical Council (GMC) when it approached NHS Grampian before carrying out its own investigation.
When pushed as to why the alternative copy had been submitted to the GMC, Mr Fluck told the tribunal: "I never cross-checked it because it never occurred to me to do so".
Prof Krukowski was suspended from his role at Aberdeen Royal Infirmary in 2015 after the RCS investigation and an NHS Grampian-sanctioned probe into his conduct.
Despite being cleared by the GMC of any wrongdoing the following July, he left his job a short time later.
Earlier in the tribunal, now in its second week, the surgeon – who oversaw the medical care of the royal family when they were at Balmoral Castle – broke down in tears as his letter of resignation was read aloud in evidence.
He claims NHS Grampian failed to adequately consider alternatives to suspending him and that management did not follow through on an agreement to move him out of the department.
The Scottish Government became concerned about the management of Aberdeen's hospitals in 2014 after Mr Krukowski used whistle-blowing legislation to come forward.
It led to the departure of health board chairman Bill Howatson and Mr Carey.
The tribunal, in front of Judge Alexander Meiklejohn, continues.