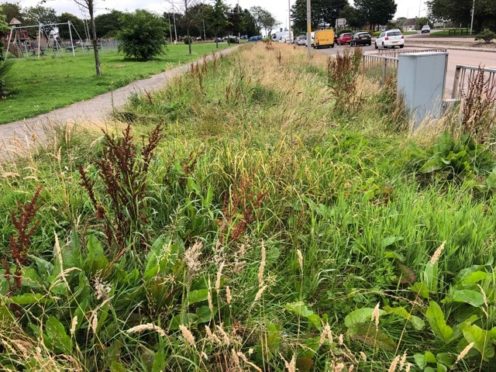 Despairing residents in Aberdeen have started a petition in a desperate attempt to persuade the council to cut overgrown patches of grass.
The appeal was started when the unsightly weeds which have sprouted around North Anderson Drive since grass-cutting services were drastically reduced began blowing into people's gardens.
Resident, Marion Seamans, took matters into her own hands after noticing the area becoming more and more unkempt in recent weeks.
She said: "The council hasn't cut the grass in months – there are weeds everywhere.
"There were nice flowers in the middle of the drive, but there's nothing there now.
"My husband is in his 70s and he has to go out and cut the grass himself. The council does the swing park but that's all.
"It's an absolute disgrace, I've contacted the council several times.
"I was sent a reference number and told it would be dealt with within a month but that's not good enough."
Due to back problems, Mrs Seamans hasn't been able to get around the full street with the petition but all of her nearby neighbours have signed it.
The council scaled back its grass-cutting services earlier this year as part of a package of swingeing budget cuts.
The ruling Conservative, Aberdeen Labour and independent administration approved a cut of £653,000 to maintenance around school grounds, roads, cemeteries, community centres, parks and fields in February.
The package of reductions was imposed in an effort to find more than £41 million of savings.
A spokesman for the local authority last night said: "While we fully understand the views of the petitioners, severe financial constraints and consequent budget reductions have impacted on grass cutting and we have a programme of work to follow that takes in to account the savings we have had to find.
"These reductions have impacted across all areas of the city.
"Our grass-cutting routes across all areas of the city have, in the main, been reduced".
In June frustrated opposition councillors claimed that parts of Aberdeen were "starting to look like a jungle" after missing out on their usual maintenance.