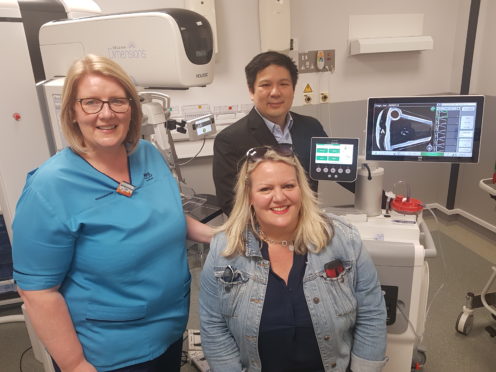 Aberdeen Royal Infirmary has become the first hospital in Scotland to use a new breast biopsy machine.
NHS Grampian's new equipment allows medics to see specimens during a procedure and can reduce the number of biopsies required to be taken.
The two-in-one technology also carries out the biopsy at the same time as it x-rays the samples taken, significantly cutting procedure times .
On average around 10 minutes per procedure are saved, resulting in less pain, bruising and discomfort for patients and enabling additional patient appointments.
Sally Holland was one of the first patients to be screened by the machine.
She said: "The procedure was fairly quick, easy and was painless. It took less than 20 minutes.
"It really is a minimal amount of time for something that can save your life ultimately."
Advanced practitioner for the breast screening service, Michelle Cumming, said: "We've only had the machine for a few months but we are seeing the benefits of it.
"Ladies are far happier with the procedure as it it is short and sweet and as a team we feel that things are running very smoothly."
The streamlined technology provides a faster and more accurate screening.
Before, up to 12 samples often had to be taken from patients and sometimes even that was not enough.
Sometimes further samples had to be taken, meaning more anaesthetic had to be administered, there was more discomfort and there were delays.
Clinical director, Dr Gerald Lip said: "The new machine cuts out multiple steps in the process and makes it much faster.
"With the shorter procedure time we've seen that there's been less side effects such as complications from bruising.
"Patient comfort is better and it is easier for us to apply the anaesthetic and freeze the area so that patients are not feeling pain.
"I think its an advantage for the centre and its an advantage for the ladies of the north-east of Scotland to have this available, particularly because we cover such a wide geographical range and we're able to do it all in the one visit."
The machine, called Brevera, cost more than £65,000.
By cutting the once eight steps of a breast biopsy to three, it has created extra capacity for patient appointments and other clinical work.