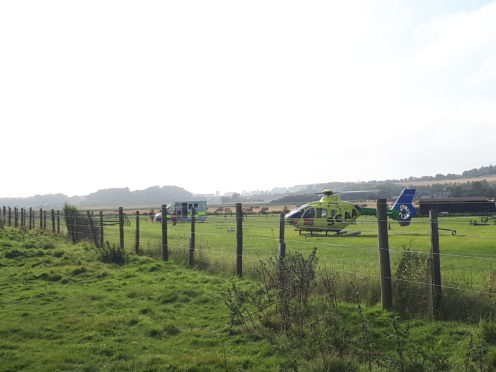 A woman was airlifted to hospital on Saturday after falling from her horse at a jump.
Police and ambulance crews were called to a field near St Cyrus Nature Reserve's visitor centre at about 2pm.
An air ambulance was subsequently requested and, after circling the north-east beauty spot, landed in the field off North Esk Park Road.
After initial treatment on the scene the woman was taken to Ninewells Hospital in Dundee.
She is believed to have serious injuries to her ribs.
A police spokeswoman said: "We were made aware of a call around 2pm and an injured woman had to be airlifted to Ninewells Hospital.
"Her injuries are non-life threatening."
Onlookers watched on as the incident unfolded, many of whom had taken part in the Marine Conservation Society's Great British Beach Clean at St Cyrus Nature Reserve.
One said: "I saw it happen and spoke to the paramedics afterwards – she was going over a jump and fell off the horse.
"She had taken most of the fall in her ribs.
"It was quite dramatic seeing the helicopter land – I hope she recovers quickly."