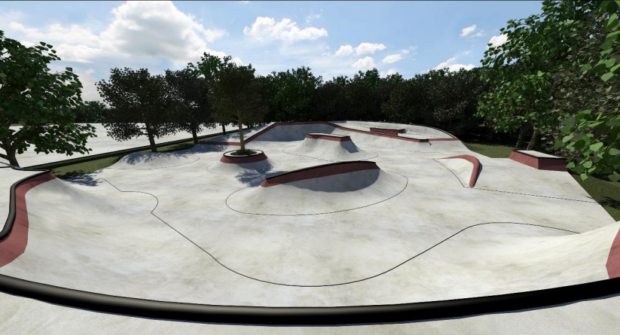 Fresh plans for a new skate park in Deeside have been wheeled out by a community group.
The Aboyne Wheelers has been attempting to create a multi-use skate park for bikers, skaters and rollerbladers for more than 20 years, but has had difficulties in finding an appropriate site.
Now the group has put forward revised £100,000 proposals for the Ladywood area of the village, a short distance from the academy.
The proposed facility, which has been designed by Concreate Skate Parks, would be located in an area of mature woodland to the west of the school's car park, and on the northern side of the village's multi-use games arena.
Iain Young, design and construction director for Concreate Skate parks, said in a report the proposed facility has been drawn up as a "diverse and unique" place for users of all ages.
Included in the plans are all manner of ramps, jumps and features created with "progression in mind", with something for "the smallest child or beginner to the most proficient of adult user."
In his report, Mr Young described the Aboyne design as "the most interesting medium-sized skate park design that we have ever done".
Prior to this latest application, the Aboyne Wheelers organisation has assessed a number of possible locations – but ultimately decided that Ladywood was the best choice.
Laura Simmons from the Aboyne Wheelers said: "Morale is really high, and we're feeling really positive and hopeful about these latest plans.
"It's been about 25 years now that there have been efforts to get a skate park built in Aboyne.
---
>> Keep up to date with the latest news with The P&J newsletter
---
"The biggest problem has been finding a viable location that fits the needs of skate park users and the community.
"There was a lot of opposition to our previous site, even though it was perfect in terms of visability and safety, but it wasn't deemed to be the best site in terms of the community getting behind it.
"But this new location really ticks all the boxes, and there's a lot of hope now that this could be it." The proposed land earmarked for development by the group contains well-established woodland and a number of older trees.
A statement published online by the Aboyne Wheelers group said: "There is still a long way to go to turn the mixed use skate park for the kids of upper Deeside and Aboyne to reality, but this is a critical step and clearly we would love to see as much support as possible for our proposal from kids and families who want this facility to happen.
"We understand the sensitivity of clearing some woodland for this site, but we have undertaken a structured review of all possible sites around the village, and have undertaken ecological and tree surveys as part of this process.
"We will of course offset plant an excess of trees impacted by this project to ensure carbon neutrality, and a sound ecological approach."