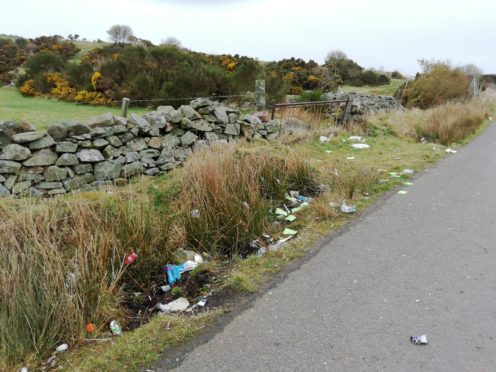 Frustrated residents have slammed the "thoughtless" litterbugs turning a picturesque rural track into an "eyesore".
Homeowners living near Lochside Academy in Cove have complained of a year-long battle with people marring the landscape by leaving cans, bottles and wrappers strewn across the ground on a regular basis.
The main dumping ground, Redmoss Road, links onto a back path at the £47 million school and is surrounded by farmers' fields.
As well as leaving the area looking unsightly, concerns have been raised that the litter could pose health risks to the animals and livestock kept nearby.
While Aberdeen City Council has installed bins to ease the problem, locals are becoming increasingly "frustrated" they are not being used.
One resident, who not want to be named, claimed the issue has gradually been worsening since the school opened last year, suspecting its pupils are to blame for the mess.
He said: "They are spoiling a beautiful area.
"There's a back path the pupils use where they sneak off for a smoke or whatever else, and that's where the litter is.
"It is disgusting, thoughtless behaviour.
"The litter is not only an eyesore but is detrimental to the environment, community, livestock and local wildlife."
Lochside Academy became the largest school in the city when it opened its doors to pupils in August 2018.
The 1,350-capacity facility replaced the former Torry and Kincorth academies and has a swimming pool, dance studio and sports pitches.
Alan Strachan, chairman of Nigg Community Council, said: "We had and still have problems with litter at the rear entrance of Lochside Academy.
"Despite the council providing bins, the problems continue.
"I suppose it will be a matter of time before the pupils start to use them."
Meanwhile the chairwoman of neighbouring Cove and Altens Community Council, Michele McPartlin, said littering is a widespread issue throughout the area – and one which should not be pinned on one particular group of people.
"Litter is a big problem that doesn't seem to be going away," she said.
"In fact, it seems to be getting worse.
"No matter how much education and awareness is put into this, people are just not getting the message."
An Aberdeen City Council spokesman said: "Without seeing individuals carrying out the alleged littering, whether they be pupils or other members of the community, it is difficult to take direct action.
"What we would say however is that as a council we have strong anti-litter messages and that, by and large, our school pupils have proved to be some of the most environmentally-aware citizens in Aberdeen taking part in various projects such as the annual litter pick and advising people in our local communities about the problem of littering."