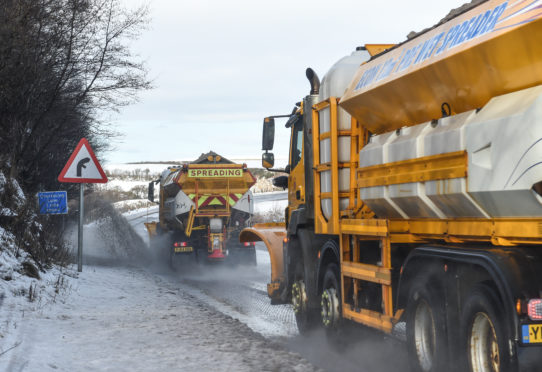 Gritters were out in force on Aberdeen's roads last night as overnight temperatures plummeted.
Ten crews were involved in pre-treating primary routes amid forecasts for rain and temperatures below freezing.
The primary routes treated made-up for almost half of Aberdeen's roads network.
Aberdeen City Council's winter maintenance programme involves a stockpile of 12,000 tonnes of salt and almost 180 staff.
An Aberdeen City Council spokeswoman said last night: "The temperatures are due to get very cold so our gritters are out carrying out pre-gritting.
"We cannot be everywhere around the city at the same time but the primary routes will be gritted.
"We'd ask motorists to be prepared for their own journeys by keeping a close check on weather forecasts, plan appropriately, ensuring they have the right equipment for their journeys, adhering to police and travel advice and having an alternative plan for transport."
Weather forecasts are closely monitored throughout the day and night by the council and residents will be able to track road gritters as they drive around the city.
Early morning and standby gritting operations are set to run through to March 15.