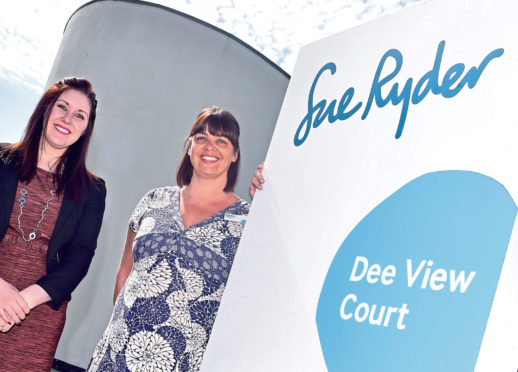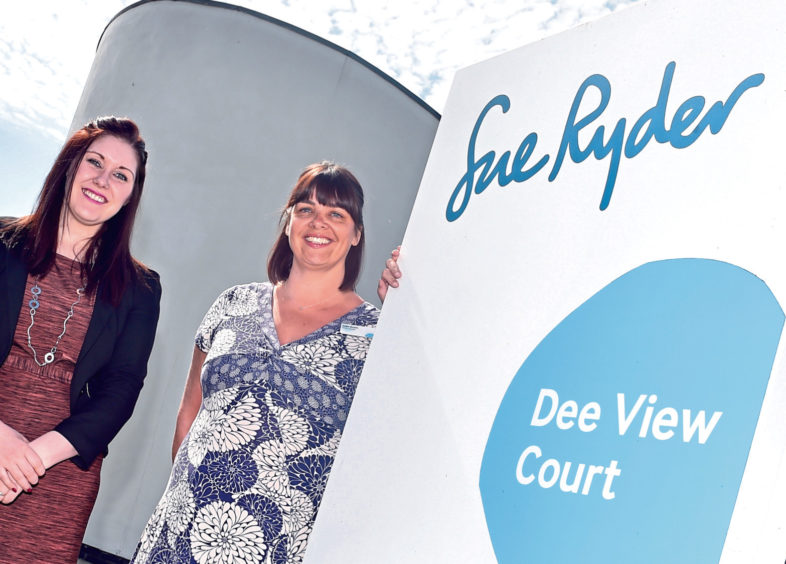 As Sue Ryder's £3.9million expansion reaches the final stages, the team tell Neil Drysdale that they need just a little more help to make their vision a reality
Nobody could accuse the the team at Sue Ryder of a lack of ambition when they revealed plans to expand Scotland's only specialist neurological centre in Aberdeen in 2017.
The charity was determined to raise £3.9m to create a major extension of its facilities at Dee View Court to provide round-the-clock care for a greater number of people with serious conditions such as motor neurone disease, severe stroke, acquired brain injury and Huntington's syndrome.
The campaign has been in full flow since, and the builders are completing the final stages of their refurbishment with the first of the new residents already settled.
But Sue Ryder has urged individuals and companies across to provide one last financial injection to help them reach their target.
Trevor Garlick, Dee View Court's charity appeal chairman, told the Press and Journal he was grateful for the response to the appeal but stressed there is still plenty of work to do.
He said: "I am delighted that we have reached over the £3.1million mark and we have pledges from several local teams to help us get further.
"But it's really important we have one final push to reach our target. By taking a multi-faceted approach, seeking funding from different avenues, we are hopeful of meeting the target. Together, we can help more people get the care they need.
"I've been coming to the site regularly and I'm really proud of the extension and the whole team at Dee View Court. The passion of the local community for the neurological care centre is hugely evident in the support they have given in the past couple of years.
"The scaffolding is now down and the team has started the fit-out of the rooms and apartments. All the rooms are designed with hi-tech hoists and specially designed beds and importantly, wheelchair access to the gardens.
"Raising funds on this scale will always be challenging and our plans for Sue Ryder Dee View Court are ambitious, and we can't do it alone.  We are hugely grateful to all the support that has got us this far… but we need to finish."
As Sue Ryder's director of neurological services in Scotland, Pamela Mackenzie appreciates the difference the centre makes to residents and their families.
She realises demand always outstrips the number of places available, but is convinced the new facilities will provide substantial benefits for everybody at the centre.
She said: "Neurological conditions can affect anyone at any time, affecting people in very different and complex ways but ultimately affecting every aspect of someone's life. This is why people with neurological conditions need specialist care and support, whether at home or in residential care.
"We are expanding Sue Ryder Dee View Court so we can give more people a chance to get the most out of life by giving them the care they need and deserve.
"We want to ensure we are increasing support for a wide number of people who have differing neurological conditions and need different types of support.  By providing more beds and creating additional apartments, we will be able to provide ongoing support for a larger number of people in the community.
"The apartments are geared towards the rehabilitation of those with neurological conditions who are able to live more independently but still need close access to care."
The bedrooms have been fitted with specialist equipment such as overhead tracking hoists, hydraulic profiling beds and air flow mattresses and have been designed to help people be more comfortable and independent.
At the outset of its fundraising initiative, Sue Ryder issued a striking photographic exhibition called Don't Write Me Off.
During a tour of the complex, it is clear that is a message which still resonates with the nursing staff, administrators, support personnel and volunteers as they work to support residents and hit their final target.
Jon and Eva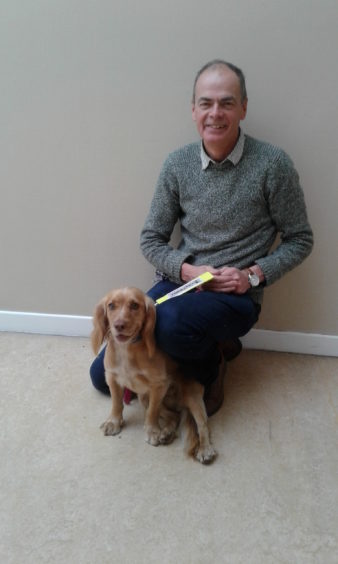 It isn't just big-hearted humans who are helping raise the spirits of the residents at Dee View Court.
Jon Turnbull and his therapet dog Eva visit the Sue Ryder centre in Aberdeen every second Wednesday and always receive lots of interest and attention.
Cocker spaniel Eva is a very sociable dog and relishes playing with the residents  – and the staff. For their part, the residents love seeing Eva, playing with her, petting her, or letting her sit on their lap and sharing a hug.
Interacting with therapet dogs has been shown to help reduce blood pressure, assist with pain management, and act as a general mood enhancer.
Mr Turnbull has a personal – and very poignant – connection with Dee View Court. His friend and former BP colleague Stephen Morrison was a former resident of the centre after being diagnosed with multiple sclerosis.
That was the catalyst for him establishing a close connection with Sue Ryder and he was keen to support the fundraising for the DVC expansion.
It led to him participating in a BP Coast to Coast charity bike ride which raised £38,000 for the appeal.
When Mr Turnbull hooked up with puppy Eva, they would both visit Mr Morrison and the little canine would sit on his lap while he told stories to his friend.
He said: "Stephen and I had had known each other for many years – we first started working together in 1980.
"What prompted me to train Eva as a therapet is that I had tried to train my previous dog, but it wasn't very successful.
"However, I could see the benefits of a therapet dog and I was keen to try out Eva.
"I also saw how keen Stephen was to see her and how well she responded to him."
Mr Morrison died in February this year, but his legacy lives on for others.
To help, visit www.sueryder.org/deeviewappeal