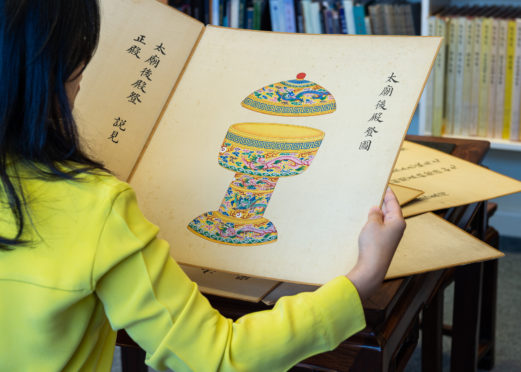 A series of rare paintings created for one of the last Chinese emperors and once owned by a north-east lieutenant has sold for £225,000 – almost five times the original valuation.
The 10 album leaves from the Illustrated Regulations for Ceremonial Paraphernalia of the Present Dynasty went up for auction in at the Woolley and Wallis Salerooms in Salisbury this week.
As a collection it was valued between £30,000 and £50,000 but sold to a Chinese buyer for £225,000.
The 12 silk paintings were created by an unknown artist between 1750 and 1759 for Qianlong, who ruled from 1735 to 1796 during the Qing dynasty.
Emperor Qianlong was "fastidious over regulation and ceremony" and the album was produced to document the correct forms of dress, military code and ceremonial vessels for the many rituals at that time.
The original album, vital for the court, had more than 1,300 pages but the whereabouts of many of those pages is unknown.
It is thought they were once housed in Beijing's Old Summer Palace. Decades after Qianlong's death, some of the paintings fell into Scottish hands.
Captain William Gordon Chalmers was born in Monkshill, near Fyvie, and became a lieutenant in the 51st Bengal Native Infantry in January 1857.
He acquired the 10 album pages during the Second Opium War at the Taku Forts near Tianjin and in Beijing three years later.
Chalmers died in India in 1868 but even now a cenotaph bearing his and his relatives' names can be found in St Peter's Church Cemetery in Fyvie.
The paintings were acquired from the Chalmers family in 1950.
Woolley and Wallis's head of Chinese paintings, Freya Yuan-Richards said: "We had a lot of interest in the album before this week's sale, and with a dozen telephone lines booked to bid it wasn't a huge surprise when it sold so far above the pre-sale estimate.
"The interest was all from China and the successful bidder is a private collector from mainland China, so the album is essentially going home.
"For collectors of Chinese art, the pages included in this lot ticked a lot of boxes.
"They have provenance to the Old Summer Palace and the Emperor Qianlong and have real rarity value as well as being beautifully painted.
"The original album had over 1,300 pages in it, but the whereabouts of most of it is unknown.
"There are examples in the Victoria and Albert Museum, the British Library and other museums.
"It is likely that others exist in private collections, but they seldom come up for sale.
"The last pages to come onto the market were sold two years ago in Paris for £40,000 for six pages, so we're incredibly pleased to have achieved such a strong result for our vendor."