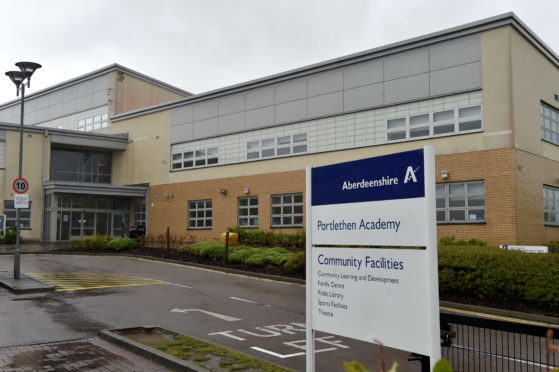 A teenager has appeared in court after causing a disturbance at an Aberdeenshire school by loudly threatening to "deck" one of its pupils over an unpaid debt.
Police were called to Portlethen Academy at around 1.35pm on Wednesday, following concerns about a young man on a bicycle at the rear of the school shouting abuse and issuing threats.
Officers quickly arrived and arrested the 16-year-old.
The young man, who is unable to be identified due to his age, pleaded guilty to a charge of acting in a threatening or abusive manner that was likely to cause fear or alarm when he appeared at Aberdeen Sheriff Court today.
Depute fiscal, Jade Wong told the court that senior staff at the school were made aware of a disturbance to the back of the building.
The teenager – who is not a pupil at Portlethen Academy – was seen to be acting in an "angry and agitated" manner, while sitting on a bicycle.
Ms Wong said the teen was heard "shouting that he intended to assault a pupil at the school".
The depute fiscal said a senior staff member "tried to engage with him", but the angry youngster told him to "stay where you are, or I'll deck you as well".
Other teaching staff also emerged from the school to help ease the situation and calm him down, but he continued to shout abuse.
His defence solicitor said the 16-year-old had been involved in a dispute over money with another child, who had run into the school before he started shouting.
He added that the teenager's support worker is currently trying to guide him towards employment, and appealed for Sheriff Mungo Bovey to not give him unpaid work, over fears it would put him into contact with adult offenders.
Sheriff Bovey said he was "concerned" to see the young man in court at such an early point in his life, and deferred sentencing until next month.
A spokeswoman for Aberdeenshire Council said: "We can confirm staff quickly intercepted a young person who entered Portlethen Academy during lunchtime yesterday."
"We'd like to reassure parents and the winder community that the school is secure and the safety of our pupils and staff will always be our priority", she added.
Sergeant Mark Conner said: "I would like to reassure the local community that this was an isolated incident, and no-one was injured as a result."