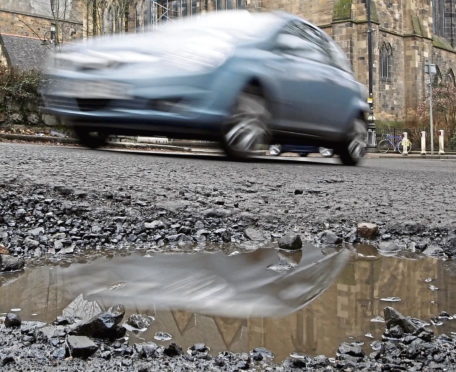 Safety fears have been raised after local roads authorities admitted there are 10,000 potholes scattered across routes in the north and north-east.
The huge backlog of repairs to the defects has emerged before the annual deterioration of local roads during the winter months.
Despite fixing almost 5,000 of the craters since the start of the year, Aberdeenshire Council told The P&J there were currently 8,685 potholes on its roads.
The number was far higher than other areas, although the local authority put it down to its efficient reporting system and the length of its 3,400-mile road network.
Highland Council, the only authority in Scotland that manages more local roads than Aberdeenshire, had 2,076 work instructions on its repair system in the first half of the year, and had fixed 762 of the issues.
It said Government funding was insufficient to enable it to do all the work it would wish to.
Meanwhile, Aberdeen City has 233 outstanding jobs to carry out on its roads, while Moray has 105 and Argyll and Bute 358.
RAC head of roads policy, Nicholas Lyes, said potholes were "the bane of drivers' lives".
"They cause expensive damage to vehicles and present a very serious road safety danger, particularly to those on two wheels," he said.
"We urge all road users to report any they spot as it is the authorities' duty to repair every reported pothole.
"Ones that are not reported will only be fixed if they are picked up in councils' routine inspections.
"Drivers in the UK contribute around £45 billion in motoring-related taxation every year, so it's no wonder many are frustrated with the poor quality of the roads they use."
Aberdeenshire Council's deputy leader Peter Argyle said the authority had become "very efficient" at tackling high priority potholes, amid diminishing budgets.
"The figures themselves look quite stark, and it looks like there are a huge number of potholes that haven't been mended," he said.
"As with everything, we have a limited budget, so we can't do everything we want to do, so what we do is have a very clear system of prioritisation when it comes to potholes or defects in the road.
"If a pothole appears on a major road in a place that is going to cause danger to life and limb then that is given absolute priority and is repaired within hours.
"One of the reasons we can give you very accurate figures is that we have a very good system in Aberdeenshire to enable people to report defects, and you can do it online.
"A lot of people use that now."
Highland Council's vice convener Allan Henderson said official indicators were "going in the wrong direction" in terms of problems on local roads, although he added that it had not been "one of the biggest issues this year", possibly due to Transport Scotland's trunk road repair work.
"I know our figure has moved from about £176 million to nearer about £195m, in terms of the backlog we've to catch up on, although that's not specifically potholes, it's general roads issues," he said.
"It's a constant argument with the government. The government will say that they give councils enough funding to be able to have fair amounts put aside for all the work they need to do, including roads.
"But when we have the full call of education, and knowing that we've to really get that right, it makes it very difficult to put what we would call fair amounts aside for roadworks."
Potholes appear to be far less of an issue on the islands, compared to the mainland, with Western Isles Council saying it currently had "no reported pothole repairs outstanding at present".
Shetland Islands Council (SIC) does not even record pothole numbers, but estimates that it repairs 10 to 20 a year, while in Orkney 62 had been reported by the public, and 211 found by inspectors, in 2019.
An SIC spokeswoman said: "Due to our climate, underlying soil conditions and low traffic volumes we use quite a soft grade of bitumen binder in our asphalt surfacing materials that remains relatively flexible.
"This means that we do not get many of the more brittle types of failure that result in the formation of potholes."