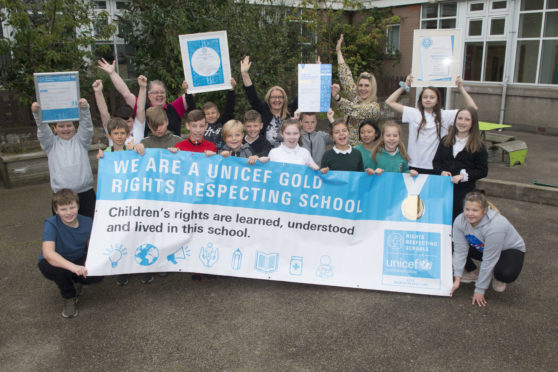 Three Aberdeen schools have received praise from Unicef for their efforts to recognise the rights of pupils.
Yesterday was World Children's Day, which marked the 30th anniversary of the UN's Convention on the Rights of the Child.
Now Riverbank and Ashley Road primaries and Cults Academy have received Unicef Gold Awards for being "rights respecting" schools.
Riverbank School is the only one in Scotland to have been re-accredited at gold level three times – in 2013, 2016 and now 2019.
Deputy head Sarah Sunley said the convention was at the "heart" of the school.
"The school works hard to ensure that children know about their own rights and the rights of children around the world," she said.
"If you visit Riverbank you will get a real sense of inclusion where pupils feel safe, and nurtured, have a voice and are very much listened to."
Each school has been commended by Unicef for embedding children's rights in the pupil's and staff's everyday activities.
The pupils will now help pull together a video highlighting Aberdeen's efforts to become a Unicef child-friendly city.