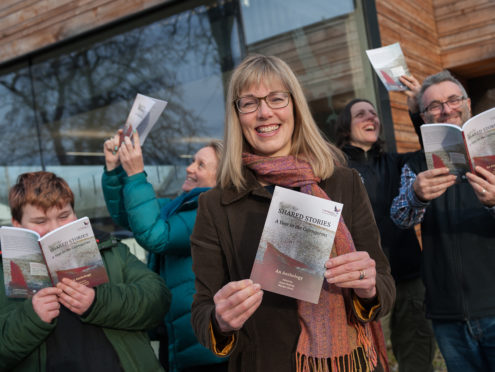 Writers have spent a year building an anthology about life and nature in the Cairngorms National Park.
The book, Shared Stories – A Year in the Cairngorms, explores how people and nature thrive together and has been a labour of love for the team at the national park and visitors young and old.
Writer-in-resident Merryn Glover compiled the book with project manager Anna Fleming, with contributions from residents and other established writers such as Linda Cracknell and Alec Finlay.
Writing workshops were held in the park throughout the year, as well as in local schools and there were also sessions held for rangers and land-based workers to share their memories, experience and love for the area.
The book – which launches today – is made up of poems, prose, serious reflections and funny tales.
Award-winning author Ms Glover said: "We set out to encourage people to write creatively about how we and nature thrive together, and as the first writer-in-residence for the Cairngorms National Park, my role was to facilitate this work through a varied programme of activities taking me all over.
"The book captures the range of voices and experiences that have responded to the project and the work contained within it spans young children to a woman in her 80s, academics to farmers, locals to visitors.
"We hope people enjoy it for years to come."
Grant Moir, chief executive of the Cairngorms National Park Authority, also has a piece of work published in the book.
He said: "I thought a writer-in-residence would be a great idea but the day I saw 20 kids sitting at Loch Morlich as part of Rural Skills Day all silently writing Cairngorms lyrics was when I knew this project was really special.
"The stories written throughout the year really get to the heart of the Cairngorms. Everyone who has been involved has got something out of it and a lot of that is down to Merryn."
Shared Stories: A Year in the Cairngorms  has been organised and part-funded by the Cairngorns National Park Authority with £8,000 funding from Creative Scotland and £10,000 from the Woodland Trust.
Copies are available locally in the park or visit www.cairngorms.co.uk