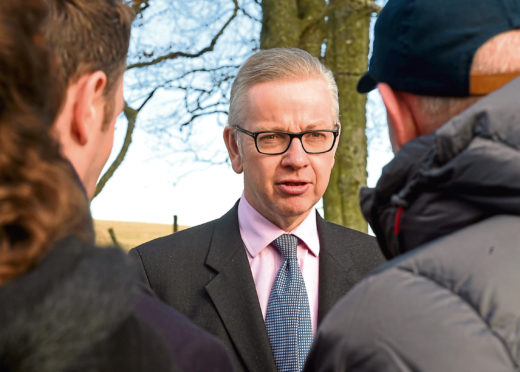 The Conservatives have made an election pledge to maintain levels of farm funding for the lifetime of the next Parliament – a full two years longer than the current commitment.
Chancellor of the Duchy of Lancaster, Michael Gove, made the announcement while visiting a farm near Castle Douglas.
"A majority Conservative government will safeguard farm payments for the lifetime of the next Westminster Parliament," he said.
"That is a five-year guarantee and it means farmers and land managers will receive the same level of support in cash terms.
"Agriculture is devolved so it will be for the Scottish Government to determine how that money is distributed. But Scottish farmers can be reassured the total amount of support will be maintained under a Conservative UK government."
He added: "No other party is making this promise and no other country is offering such certainty for its farmers." However the SNP candidate for West Aberdeenshire and Kincardine, Fergus Mutch, said farmers already had a funding guarantee.
"It's called EU membership, which includes benefiting from the Common Agricultural Policy," he said.
"Scottish farmers should reject a future which involves the loss of free trade within the single market, ending free movement and lowering consumer standards.
"The Tories can never be trusted to stand up for Scottish farming – they are desperate to get a trade deal with Donald Trump that would see sub-standard imports flooding the market.
"A vote for the SNP on December 12 is a vote to protect Scottish fishing and farming, escape the damaging Brexit crisis, and put Scotland's future in Scotland's hands."
The farmers' union pointed out their manifesto set out a clear marker for the next UK Government to deliver funding commitments beyond the lifetime of the new parliament.
Union president Andrew McCornick said: "NFU Scotland has issued its manifesto to all political parties and candidates standing in this election, and calls upon all parties to deliver unambiguous commitments on future funding so that industry can work with governments to develop and deliver a bold new agricultural policy that will support farmers and crofters to improve productivity, environmental benefits and financial stability."