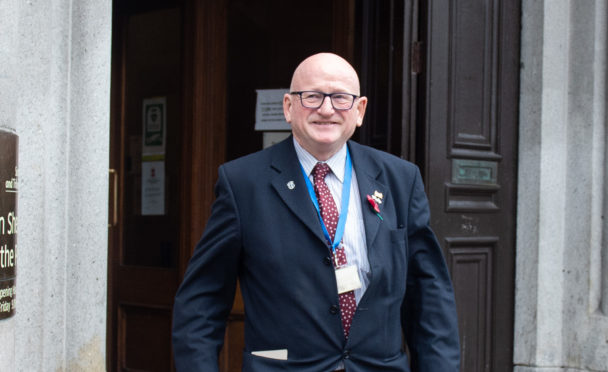 The Scottish Government could consider a change in the law to remove disgraced councillors from office sooner, in the wake of an Aberdeen councillor's conviction as a sex offender.
Earlier this month Alan Donnelly, 65, was found guilty of sexually assaulting a man by kissing his face and touching his hair and body. He will be sentenced in January.
While he has resigned from the Conservative Party, he has not stepped down from his role representing Torry and Ferryhill on the local authority – now as an independent member.
Mr Donnelly has been stripped of all his committee positions since his conviction and been urged to resign by the group leaders of all parties on the council.
There are, however, relatively few methods by which to forcibly remove a councillor from their position.
This can be done by the standards commission if it judges that someone has broken the code of conduct, or if the councillor is given a prison sentence of at least three months.
Local government minister Kevin Stewart has said that, while he cannot take any direct action to influence the commissioner, he has urged her to expedite any investigation she may choose to carry out.
In a letter to city councillor Alex Nicoll, he said he was "disgusted" by Mr Donnelly's behaviour and wrote: "I have written to the commissioner to express my concern at this case and asking for her to prioritise and act quickly to any complaint she receives.
"I am aware, however, that the commissioner may not act until sentence is given, after which her intervention may be unnecessary."
Mr Stewart, who is also an SNP MSP for Aberdeen Central, confirmed that discussions are taking place as to how procedures could be bolstered to allow for "swifter action" in situations such as this.
He added: "I have already asked my officials to look at what might be done to look at how the legislation which supports the ethical standards framework could be strengthened in the future so that in cases such as this swifter action can be taken.
"The public must be given assurance that only the highest standard of conduct is acceptable for elected politicians.
"Unfortunately at this point there is no direct action I can take to remove Councillor Donnelly."
Mr Nicoll, who represents Kincorth, Nigg and Cove, had written to Mr Stewart in the wake of Mr Donnelly's conviction at Aberdeen Sheriff Court.
He asked the minister: "I would like to take this opportunity to ask what measures you consider could be taken to remove Councillor Donnelly from office given the seriousness of this crime?
"I would also welcome details of any action you may be considering to take that would address the issues that have been raised in these circumstances."
Mr Donnelly declined to comment.
The background
Last week city councillors from every political party joined forces to demand Alan Donnelly's resignation.
At an emergency meeting, members unanimously agreed he should quit and asked the local authority's chief executive to write to the ethical standards commission.
Council co-leader and Conservative group leader, Douglas Lumsden, had previously written to Mr Donnelly asking him to stand down.
His sentiments were echoed by SNP interim group leader Jackie Dunbar, who said: "I think the agreement sends a strong message that there is no space for councillor Donnelly.
"Being councillor is an honour and a privilege and he has destroyed that."
Meanwhile Ian Yuill, the Liberal Democrat group leader, said: "Councillor Donnelly needs to resign and that is now council policy.
"He should have gone following his conviction and, if he had any decency, he would certainly go now.
"A registered sex offender has absolutely no place as an elected councillor."
Britain's largest trade union, Unite, has also called on Mr Donnelly to quit.
Bryan Simpson, its hospitality sector organiser, said: "This is a particularly disturbing example made all the worse by the fact that the perpetrator was a senior local politician.
"Now that he has been found guilty, we would suggest his position is completely untenable and if the local authority has any sense or empathy for the victim he should be shown the door."