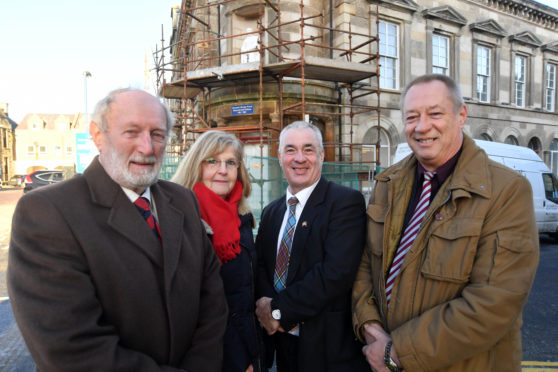 The regeneration of the north-east's coastal communities has been praised as work continues on a range of new projects.
Coastal towns in the north of Aberdeenshire are undergoing a five-year vision and action plan to restore the area.
A review of the work done by Aberdeenshire Council was presented to the infrastructure services committee this week which indicated that the partnership approach was moving forward significantly.
Various groups are involved with initiatives in Peterhead, Fraserburgh, Banff and Macduff which are designed to tackle their town's social challenges.
Phil Prentice, chief officer of Scotland's Town Partnership, reviewed the eclectic plans and reports.
He said: "The structured and imaginative approach undertaken by Aberdeenshire Council and their partners in helping to regenerate and revitalise their key towns is really encouraging and they are evidently turning things around for the better.
"Local people really care about their towns."
One major success from the scheme is the Fraserburgh Enterprise Hub which has supported 15 businesses, created 15 full-time jobs and 15 part-time jobs in the last year.
Further along the coast, the Macduff Property Grant Scheme has enhanced the look of 13 buildings on the waterfront and town centre.
Another 63 properties were also assisted and improved since the scheme was launched.
Cllr Peter Argyle, chairman of the infrastructure services group, has now urged more groups to get involved.
He said: "Transformational change needs everyone's involvement, it can't just be provided by one body.
"We welcome our regional partners such as Robert Gordon University who are doing a sterling job in our libraries with business support – as much as the Buchanhaven Boatshed or Fraserburgh Sea Cadets – to be progressive and confident about the opportunities that exist on the north coast."
Fraserburgh's Faithlie Centre has been given a facelift, Peterhead's derelict Barclay Park Pavilion has been brought back to life by PACT and the former bingo hall will soon become a five-screen cinema in an initiative which has been praised by BAFTA-winning director Jon S Baird.
And vice-chairman John Cox confirmed the progress will continue.
He said: "In this second term of the five years, we are gearing up to a pipeline of projects that will really add to the transformational agenda.
"These include a town centre heritage bid to improve town centre properties in Peterhead, the development of the beach in Fraserburgh, Macduff Harbour improvements and the restoration and reuse of the Vinery in Banff in partnership with SAMH and the local community."