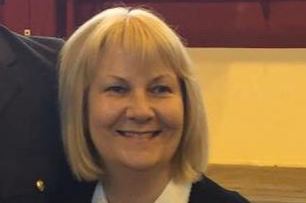 Aberdeen's depute provost has said she will never forget her close friend Alice Farquharson – and that she still expects to bump into her at the shops.
Jennifer Stewart first met Mrs Farquharson 20 years ago at a mothers and toddlers group.
The pair remained close over the years, going for coffee and sharing the latest news. Mrs Stewart, a councillor for Hazlehead, said her "close friend" also helped her through some of tough times at work.
Retired police inspector found guilty of murdering wife at their Aberdeen home
She said: "I am still finding it hard to come to terms with the fact that Alice isn't here anymore and that she had to suffer such a brutal end.
"I find myself in the supermarket or out and about still seeing her.
"The question on all our minds is exactly what did happen and what led to this.
"She was such a lovely, loving and caring wife and mother and a great asset to the whole Hazlehead community.
"She had always been very supportive me during some of my harder times at council."
Mrs Stewart said when she heard her friend had died, she assumed she had been ill and wondered why she had not mentioned it.
"My heart goes out to her family and friends for what they have gone through," she added.
"I don't think I will ever be able to go down Angusfield Avenue again without thinking of Alice."