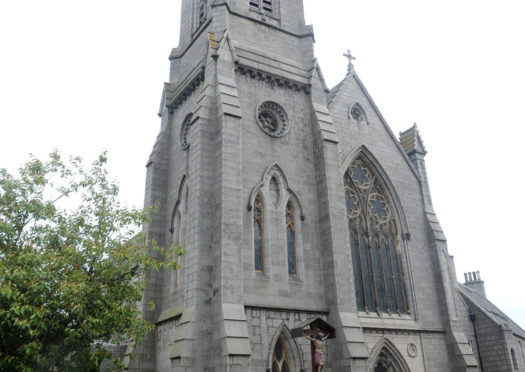 Churches across the north and north-east are revising communion in light of the coronavirus outbreak.
St Mary's Cathedral on Huntly Street in Aberdeen announced through an online statement it was taking precautions against the virus' spread.
The church said it would no longer be encouraging shaking of hands as part of the "sign of the peace" and would not supply holy water in its fonts.
It added: "Parishioners are also asked to receive the host into the hand.
"There will be no holy water in the fonts during this time, though you are welcome to bring a small bottle to the sacristy and ask for some for personal use."
The congregation at St Ninian's Church in Inverness were told on Sunday that orders from the Bishops' Conference would see careful hygiene practices put in place.
A spokesman for the Scottish Catholic Church said: "All of Scotland's eight bishops have issued advice that will apply to Scotland's 500 parishes.
"It advocates good hygiene practice, suspension of the sign of peace (shaking hands), encouraging or instructing communion in hand, encouraging or instructing the removal of the chalice and suspension of the use of holy water fonts at entrance to churches.
"These steps are being taken in line with public health advice.
"Copies of the NHS coronavirus precautions posters are also being sent to parishes for display."
The Church of Scotland has also offered guidance to its congregations across the country.
Bread should be not passed around through the "tearing and sharing" method but should be prepared by a single user who has thoroughly washed their hands before cutting up bread.
It is also asking for the communion cup not be shared, instead using individual disposable or washable cups.
Revered Robin Gray, of the Gardenstown New Church in Banff, said the Free Church of Scotland has also advised its churches to ask anyone with cold or flu symptoms to refrain from taking communion from a communal cup.
He added: "We're being cautious and careful while following the guidelines set for us by the Free Church of Scotland.
"We're taking all the precautions that we can, but we're not doing anything that would seem excessive.
"So, we're reviewing the matter on a weekly basis, for the level of risk that's there."