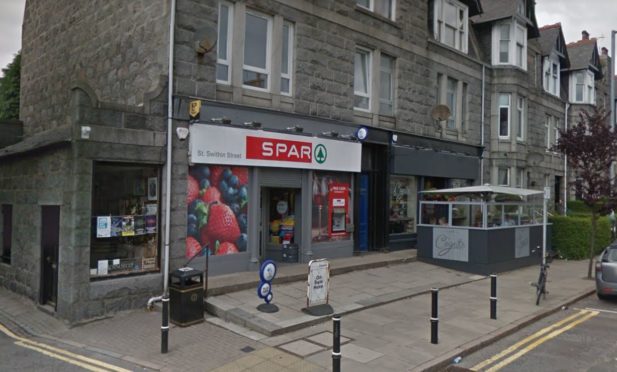 An Aberdeen shop worker was spat on by a customer following a row over social distancing rules in the store.
The vile act happened at the Spar outlet on St Swithin Street on Monday evening, where it is understood a male customer vented their frustration over distancing rules by spitting at a male worker.
Police were called to the property and inquiries remain ongoing.
A statement from SPAR said: "We take the safety of our staff very seriously and will not tolerate intimidation or threats as they work to serve the community during these challenging times.
"The incident at the St Swithin Street store was reported to the police who are investigating the matter."
Depute Provost, Jennifer Stewart said she was appalled by the man's behaviour: "I'm staggered and shocked at the level of obscenity that someone would do such a thing.
"This is a violation at any time – it is a horrendous act considering the seriousness of the coronavirus outbreak and the precautions people are taking in social distancing.
"As for the victim, I hope they remain well and are given the support they need. I can only imagine the feeling of anxiousness and anxiety this impact is having on their mental health."
Councillor Martin Greig, represents the Hazlehead area, believes protective measures should be implemented, and said:"Every employer who works with the public is now in a high risk situation.
"Its unacceptable to expect staff to carry on face to face with the public yet without personal protection. They should be given PPE as a matter of urgency."
"This assault is really chilling given the dangerous situation of Covid-19 and should be dealt with as a very severe offence.
"I feel great sympathy with the staff."
Anyone with information is asked to contact police by calling 101.