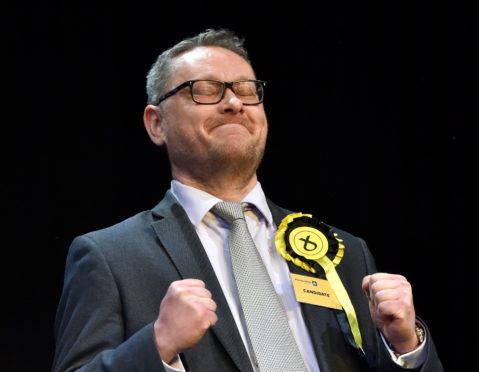 The MP for Gordon has formally stood down from Aberdeenshire Council to concentrate on his role at Westminster.
Richard Thomson announced today he had written to the chief executive to tender his resignation as a councillor for Ellon and District.
The former newspaper journalist was elected as MP for Gordon in the December UK General Election.
Mr Thomson was first elected to represent Ellon and District in 2012 and served as the vice chairman of the council's scrutiny and audit committee from 2012-2015.
Following this, he was appointed as co-leader of the council in June 2015, at the head of a minority administration which he held until the 2017 local government elections.
Since 2017, Mr Thomson has led the main SNP/Labour opposition group on the council.
He stood down from that role two weeks ago and will be replaced by Huntly, Strathbogie and Howe of Alford Councillor, Gwyneth Petrie.
During his time as a councillor, he contributed to a comprehensive review of the council's decision making processes, co-signed the Aberdeen City Region Deal and introduced a business rates relief scheme to support local small businesses through the 2017 revaluation.
Following his announcement, Mr Thomson said: "It has been an honour and a privilege to have had the chance to serve as a councillor for Ellon and District and as a member of Aberdeenshire Council.
"I would like to thank everyone I've worked beside over that time and who has helped me along the way and made it such a worthwhile experience."
Mr Thomson said he was standing down from the council to "concentrate 100% on being the MP for the Gordon Constituency."
He added: "Since 2017, I've also thoroughly enjoyed leading the council opposition and helping a new group of councillors to find their feet.
"Under the leadership of councillor Petrie, I know the group I'm leaving will be in excellent hands."
Although his role has changed, Mr Thomson said his "determination to make the north east and Scotland the best they can be most definitely hasn't".
"I look forward to continuing to work alongside all Aberdeenshire Council colleagues as we deal with the current pandemic and everything beyond," he said.