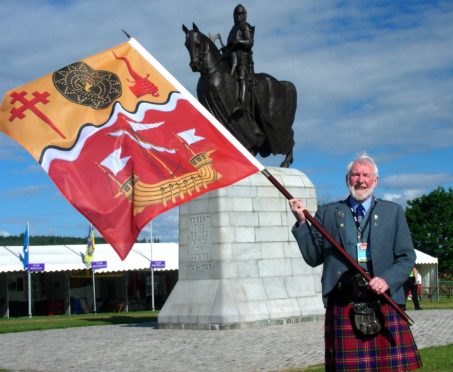 Apart from his wife, Norman George McPherson's greatest love in life was his historic clan.
The Aberdeen-born drilling consultant joined the Clan Macpherson Assocation  in 1968 and rose through the ranks to become its president in later years.
An innovative leader of the group, he introduced the practice of a Doric grace whenever clansfolk were dining together.
Another of his main passions in life was Robert Burns, as his position as president of the Aberdeen Burns Club would attest.
Following his death, at the age of 75, he has been remembered for his knowledge, wisdom and ability to strew laughter in his wake.
Mr McPherson and his wife were active members of many organisations including their local church, the Order of St John, the Order of St Lazarus, Wallace 700, the Association of Highland Clans and the Heraldry Society of Scotland.
Gordon Casely of the Heraldry Society paid tribute to his friend.
He said: "Norman moved easily through this world, wearing his learning lightly, for he never threw his knowledge at you.
"You'd get that cheery glint in his eye, and the trademark grin. After that, it was up to you to ask – and the pearls of wisdom would fairly pour forth.
"We've all lost a friend, and Norman's passing denies Mary her soulmate. They were inseparable, a team who daily demonstrated such teamwork."
Mr McPherson cherished his Aberdeen roots and trained as an engineer in the city.
He served in the Merchant Navy before moving on to work in the oil industry in 1974, retiring in 2007 as a leading consultant in specialised aspects of offshore drilling.
His long career took him as far afield as South Africa, America, Europe and the North Sea.
Struggling with a serious lung problem for years, Mr McPherson's determined attitude shone through and he even made light of his illness.
His positive outlook allowed him to contribute to many organisations up until three months before his death last Tuesday.
Mr McPherson is survived by his wife, Mary, two sons and a daughter and four grandchildren.